US online jeweler Blue Nile experiments with brick and mortar
Diamond rings on display at Nordstrom's flagship Seattle store are not for sale. Shoppers can try them on, inspect the gems' quality up close, but to buy them requires a visit to Blue Nile's website.
The arrangement is a departure of sorts for Blue Nile Inc, the company that pioneered the sale of jewelry online at steep discounts. It is the first time the company has turned to brick and mortar in its 15-year history, showcasing products in two Nordstrom stores.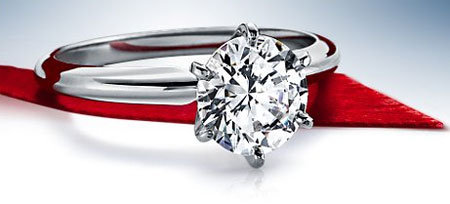 Blue Nile engagement ring
To be sure, the move is not a dramatic shift - it is an extended test to attract new customers to its site. But it comes at a time when most national chains have established Web identities, eroding some of Blue Nile's allure and leaving it without the benefits of a chain of physical stores.
"Now everyone is online," said Morningstar analyst Paul Swinand, shortly after dropping coverage of Blue Nile in June because his clients lacked interest. "What they do is less unique."
Lack of name recognition
Analysts believe the company may have a place in the more crowded field, especially thanks to rapidly growing sales in China. But they say it must spend more to build its brand in the United States and more effectively compete with big national jewelry chains and the likes of Amazon.com.
"People recognize Kay Jewelers. People recognize Jared more than they recognize Blue Nile," said Stephens Inc analyst Rick Patel, referring to two of the biggest U.S. brands. "That's not a very easy situation to tackle."
Blue Nile, which reports results next week, lets shoppers research diamonds and customize jewelry online. Prices are 20 percent to 40 percent below diamonds sold in stores thanks to low overhead costs.
Yet Blue Nile's stock has dropped more than 44 percent this year, in part because of increasing competition from Signet Jewelers Ltd, the parent of Kay, Jared and other brands. By contrast, Signet stock has risen about 32 percent, buoyed by an agreement in February to buy Zale Corp.
E-commerce has become increasingly important, accounting for 6.2 percent of total U.S. retail sales last quarter.
Web-savvy Shoppers
Blue Nile is confident it can grab a piece of the action, especially among web-savvy shoppers who are coming of age. According to a survey of 14,000 brides and grooms by TheKnot.com, Blue Nile sold far more engagement rings than even Amazon.com.
There is plenty of room for growth in the highly fragmented industry, as no single jeweler controlled more than a 6 percent share of U.S. sales in 2012, according to Euromonitor International's most recent data. The U.S. jewelry business has rebounded to $59.1 billion since the recession, and Euromonitor estimates it will grow another 14 percent by 2018.
Higher diamond costs were the main factor behind the stock's slide this year, Blue Nile Chief Financial Officer David Binder said. Other retailers keep large inventories of diamonds, shielding them from wholesale price increases.
Yet Blue Nile cut its prices in 2012 and gradually increased its marketing budget, reaching $450 million in sales last year. But Signet's e-commerce sales grew more than twice as fast to $164 million.
Blue Nile's net income last year was $10.9 million, a fraction of Signet's $368 million.
Blue Nile's Nordstrom presence - it is active in Seattle since late November 2013 and at the department store's Garden City, New York, location since February - could help it address what some analysts say is a lack of visibility compared with brick and mortar retailers.
The company won't say yet how much new traffic the showcases have generated, but CEO Harvey Kanter has said he's encouraged by the results.
Still, Patel says the initiative is not enough to compete with Signet's television ads.
Binder defends Blue Nile's approach, saying Google and Facebook ads target prospective buyers more effectively than TV commercials.
Even if the U.S. market proves to be a tough slog, Blue Nile has room to expand aggressively in China, analysts say. The company recently opened a second office in Shanghai and started hiring more Chinese-speaking sales representatives.
"We think that over time, the brand builds with incremental sales, incremental customers, and with referral," Binder said, noting that the company was only founded in 1999. "We'll get there."
© Thomson Reuters 2023 All rights reserved.