US Dec retail sales dented by blizzard, frugality
Jan 6 - Several top U.S. retailers missed Wall Street's high expectations for December sales as a paralyzing post-Christmas blizzard on the East Coast slowed what had been a two-month shopping spree.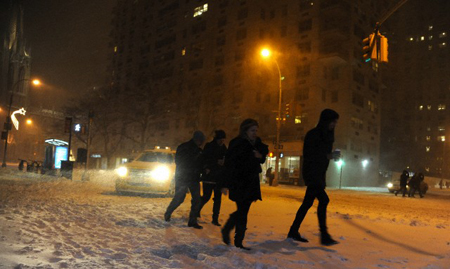 Pedestrians walk through the snow in the streets of New York on 26 December 2010
Analysts are expecting an average rise of 3.4 percent in December sales at stores open at least a year for the 28 major retailers tracked by Thomson Reuters. That would cap the best holiday season since before the recession.
The results could signal a welcome boost for consumer spending, which accounts for 70 percent of the U.S. economy, but now that Christmas is over, shoppers seem poised to put their wallets away.
"I want money in my bank account and my 401k back to where it used to be," said Patricia Welcoy, a legal assistant shopping on Wednesday in Manhattan and toting a T.J. Maxx bag.
Unemployment is still hovering just below 10 percent, and efforts by Americans to pay down high household debt loads are limiting their ability to shop as often as they once did.
"The turbulence is here to stay," said David Bassuk, a managing director at consulting firm AlixPartners. "The consumer is still very sensitive to even slight fluctuations in prices -- the consumer is still looking for deals."
Initial reports showed wholesale club operator Costco Wholesale Corp's U.S. same-store sales rose 4 percent, below expectations, while teen fashion chain Wet Seal posted an unexpected drop.
The Standard & Poor's Retail Index gained 23.4 percent in 2010, but has not budged much since early December on worries that consumer spending growth will slow.
Shares of retailers will rise further only if the companies increase their profit forecasts, Wall Street analysts say.
The holiday season was humming along until a massive East Coast snowstorm disrupted shopping the week after Christmas, which accounts for 15 percent of seasonal sales.
Research firm ShopperTrak said on Wednesday that retailers did not make up all of the $1 billion in retail sales it said shoppers put off because of the storm.
BJ's Wholesale Club Inc said the snowstorm had hurt December sales, which ended up below forecasts. Drugstore chain Walgreen Co also missed estimates on disappointing pharmacy sales.
Results from Victoria's Secret parent Limited Brands Inc came in slightly above expectations.
Teen retailers, who are subject to the whims of adolescent tastes and frequently need to slash prices, showed mixed results. Zumiez's same-store sales were up 9.2 percent, but still fell short of forecasts of an 11.5 percent gain. Buckle Inc's 6.1 percent gain topped estimates.
Hot Topic's same-store sales fell again, down 1.7 percent, but still beat expectations.
Those set to report December sales on Thursday include Macy's Inc, off-price retailer TJX Cos Inc and upscale department store chain Saks Inc.
Wall Street's forecast of higher retail sales was consistent with a jump in auto sales for December.
By Phil Wahba
(Reporting by Phil Wahba; additional reporting by Dhanya Skariachan)
© Thomson Reuters 2023 All rights reserved.