Unibail malls prosper despite euro zone turmoil
Unibail-Rodamco, Europe's biggest real-estate investment trust (REIT), said on Monday it was on track to meet its full-year targets after its big shopping centres grew revenue and profits in the face of euro zone jitters.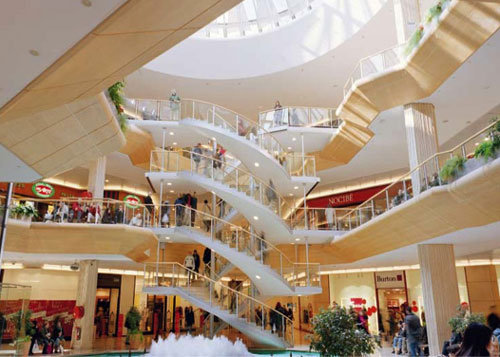 Lyon Part-Dieu / Photo: Unibail-Rodamco
Unibail, which has most of its 27.5 billion-euro ($33.32 billion) portfolio invested in European shopping malls, has for the past five years been gradually selling off smaller assets to focus on big malls that perform whatever the economic weather.
This strategy helped deliver 2.3 percent growth in first-half net rental income to 661 million euros ($800.9 million) and a 4.2 percent rise in recurring earnings per share to 4.94 euros. Unibail's net asset value per share, including goodwill, was almost flat at 143 euros.
The company is "confident" it will meet its recurring earnings per share (EPS) growth target of 4 percent for the year, despite the impact of the current euro zone crisis on consumption and retailers.
"We have positioned this company in such a way that we can continue to offer some kind of growth prospects in an environment which we don't believe is going to be an easy one," Chief Executive Guillaume Poitrinal said on a conference call.
He later told analysts there was no change to company guidance for the medium-term, adding: "We're still quite positive."
Unibail even expects "some upside" in Spain - a country in the eye of the debt storm that is mired in recession - Chief Financial Officer Jaap Tonckens said. He said "jumbo"-sized centres were outperforming national trends and growing rents.
Unibail derives about 10 percent of total rents from shopping malls in Spain, compared with 40 percent from French sites such as the Carrousel mall underneath the Louvre museum in Paris and the Part-Dieu in Lyon.
Shares of the company, which plays host to big brands such as iPhone maker Apple and clothing chain Gap, fell 2 percent, to 147.25 euros. Seen by some as overpriced, the stock has gained 8 percent year-to-date, worse than a 14 percent gain for the STOXX Europe 600 real estate index .SX86P.
Unibail recently took a big step into the German market with a 51 percent stake in a real-estate vehicle controlling Germany's second-largest shopping centre and developer, mfi AG, and 50 percent of German mall Ruhr Park.
The transaction is expected to close in the third quarter and will boost earnings from the first year of its integration.
Commenting on the potential threat of higher taxes from the new centre-left administration of French President Francois Hollande, CEO Poitrinal said that Unibail had started talks with the government over a proposed 3 percent tax on companies' cash dividend payouts.
"There is at least a discussion, and that's positive," he told analysts.
© Thomson Reuters 2023 All rights reserved.