Uncertain future for Germany's Karstadt
FRANKFURT, March 22 (Reuters) - Insolvent department store chain Karstadt will need to find a new owner by the end of April or face a break-up while investors are already positioning themselves to cherry pick.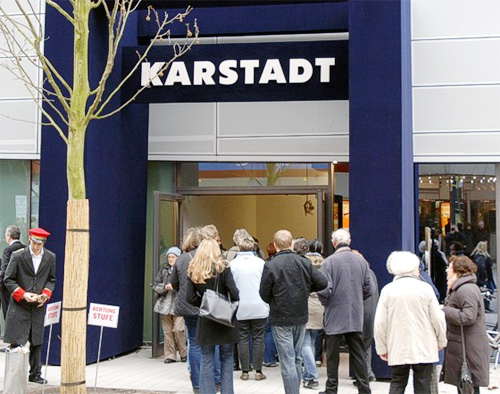 Karstadt
The administrator of the german retailer, which faces creditor claims of 2.7 billion euros ($3.65 billion), wants to sell the group's 120 stores in a single package to maximise the price.
But a break-up of the German retailer looms if a buyer fails to emerge.
Last year the administrator closed down mail-order company Quelle -- which like Karstadt belonged to German retail group Arcandor (AROG.DE) -- for lack of an investor.
Arcandor filed for insolvency last June after it failed to secure state aid to survive. Its various units -- not all of them insolvent -- are being sold, restructured or closed down.
Here are some possible scenarios for Karstadt's future:
KARSTADT IS SOLD AS ONE
Insolvency administrator Klaus Hubert Goerg says six parties are interested in the chain and have accessed its data room.
Goerg has drawn up an insolvency plan which includes concessions from Karstadt's workforce and its landlords. The plan only comes into effect if Karstadt is sold whole. The new owner would not be allowed to close a store until autumn 2011.
But it is unclear whether the interested parties will actually submit bids.
A Karstadt creditors' meeting is set for April 12 and a source said that final bids are due shortly after. Goerg has said he wants to decide on a buyer by the end of April.
SALE FAILS, KARSTADT BREAK-UP
If Goerg fails to find a buyer for the whole chain, a break-up is on the cards.
In that event, investors would get to choose the stores they think are most profitable. The rest will be closed.
This would be a blow to Goerg who has already closed down Quelle.
METRO CHERRY PICKS STORES
German retailer Metro (MEOG.DE) is interested in acquiring some Karstadt shops to add to its rival Kaufhof department store chain, which it plans to sell or float on the stock market. It drew up plans to create a "German Department Store Inc" in the run-up to Arcandor's insolvency last year.
But it is not yet involved in bidding because it is not prepared to buy the whole business. As a result, it has not accessed the data room so cannot detail which stores it might ultimately be interested in.
Chief Executive Eckhard Cordes said last week there was no pressure to sell Kaufhof and the sale would depend on the price offered.
INVESTOR CREATES GERMAN DEPARTMENT STORE INC
Sources told Reuters on Sunday 21 March that financial investors are interested in merging Kaufhof and Karstadt.
To create such a "German Department Store Inc", the potential investor would either have to buy Karstadt as a whole or wait for its break-up while also sounding out the likelihood of acquiring Metro's Kaufhof.
Such a move would likely lead to store closures at both chains.
(Reporting by Eva Kuehnen and Alexander Huebner; Editing by David Cowell)
© Thomson Reuters 2023 All rights reserved.