UK retailers say can cope with tough 2011
April 14 - Three major British retailers, Debenhams, WH Smith and Dunelm, said they could successfully navigate a grim consumer environment by focusing on profit margins and pulling "self-help levers".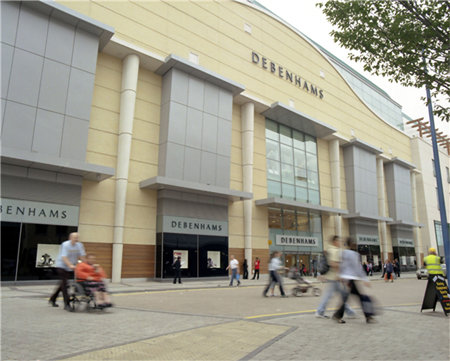 Debenhams in Birmingham
Cash-strapped UK shoppers are unwilling to spend, particularly on discretionary items, with a survey on Thursday showing consumer confidence recovered only slightly in March from the record low hit in the previous month.
Consumers are worried about government job and welfare cuts, muted wage growth and the prospect of higher interest rates.
"It's right to be cautious about consumer confidence ... (But) we are not recognising some of the comments that people are making about big sales falls," said Rob Templeman, CEO of Debenhams, Britain's No. 2 department store group.
His firm posted a 4.5 percent rise in first-half profit and reinstated its dividend.
"At the start of the second-half our (sales) run rate has been improved from the first-half," he told reporters.
On Tuesday a survey from the British Retail Consortium said underlying retail sales in March showed their biggest fall since April 2005.
A swathe of high street names, including electricals retailer Dixons, household goods group Home Retail and car parts to bicycles firm Halfords, have warned on profits in recent weeks.
A few, however, such as Marks & Spencer, and fashion firms ASOS and JD Sports, have shone through the gloom with positive updates.
SELF-HELP MEASURES
Templeman, who will retire in September and be succeeded by the current deputy CEO Michael Sharp, said Debenhams would continue to benefit from raising the proportion of higher margin own-label products in its sales mix to offset the impact of higher input cost pressures.
The firm would invest in new store openings and re-fits, its supply chain, and grow its multi-channel offer and overseas.
"We're going to continue to focus on self-help levers. We think that's going to give us some protection from the wider macro economy," said Templeman, who is hopeful cotton prices may fall going forward.
Shares in Debenhams were down 0.3 percent at 66.6 pence at 1033 GMT, valuing the business at about 835 million pounds.
"It is hard to see the shares and sector outperforming short term given the economic headwinds and commodity prices," said Seymour Pierce analyst Kate Calvert.
Newspapers, books and stationery retailer WH Smith posted a 3 percent rise in first-half profit and hiked its dividend 18 percent.
The firm is benefiting from CEO Kate Swann's strategy of cutting costs and improving gross margins by focusing on more profitable products, better sourcing and better control of markdowns, rather than driving top-line sales.
She has rebalanced WH Smith's mix of products towards core categories and away from entertainment products -- CDs, DVDs, computer games and consoles. A sound move on the evidence of HMV problems.
With an average transaction value of 5.50 pounds in its high street business and 3.50 pounds at its travel outlets the firm is less affected when shoppers tighten their belts.
"We expect the economic environment to stay pretty tough but our plans reflect this and we've demonstrated in the past that it's no blocker to delivering a good performance," said Swann.
Shares in WH Smith were up 7.5 percent at 484.7 pence, valuing the firm at 698 million pounds.
Homewares retailer Dunelm said it was gaining market share even though underlying sales fell 1.3 percent in its third quarter.
Its gross margin was up 150 basis points as it raised prices to compensate for higher costs and improved stock management.
Its shares were up 1.1 percent at 444.1 pence, valuing the business at 885 million pounds.
By James Davey and Mark Potter
(Editing by Jane Merriman)
© Thomson Reuters 2023 All rights reserved.