UK luxury goods sales seen up 10 percent on tourism boom
June 13 - Britain's luxury goods market is set to grow 10 percent this year, and by more than 50 percent by 2015, helped by a surge in tourist spending, according to research published on Monday.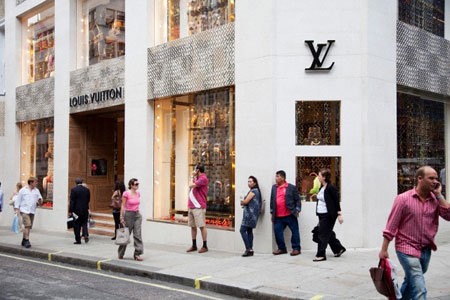 Louis Vuitton store on New Bond Street, Mayfair, central London (Photo: Corbis)
Ledbury Research, in collaboration with luxury industry body Walpole, forecast spending on luxury goods in Britain would rise to 6.5 billion pounds this year, and reach 9.4 billion by 2015.
Sales attributed to tourists leapt 40 percent in 2010, accounting for 26 percent of the total, and were set to continue growing strongly, led by American visitors and closely followed by the Chinese.
"Evidence shows that 'luxury shame' has fallen away," Ledbury and Walpole said, referring to a reluctance to spend on luxury items during the depths of the recent recession.
"Not only are customers buying less discreetly, but the industry is now less reliant on selling via private parties and trunk shows compared to last year," they said.
(Reporting by Mark Potter; Editing by Jon Loades-Carter)
© Thomson Reuters 2023 All rights reserved.