U.S. premium outlet malls to try Canada on for size
With hungry Canadian shoppers flocking to U.S. outlet malls every weekend in search of deals, it is perhaps no surprise that U.S. developers have plans to bring a dozen or more premium outlets to Canada in the next few years.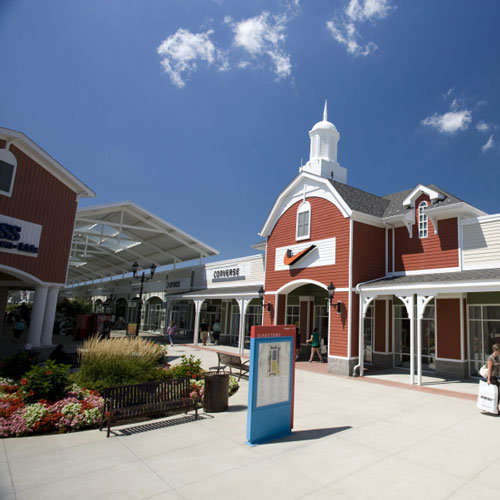 Tanger Outlets' shopping center in Washington / Photo: Tanger Outlets
The strategy is simple: coveted brands at below-retail prices - and no long lines to cross the border.
"What Canadians are looking for is the kind of outlet experience they get in the United States," said Edward Sonshine, chief executive of RioCan, which has partnered with Tanger Factory Outlet Centers Inc to bring one of the first premium outlet malls north of the border by 2013.
Between RioCan and its competitors, Sonshine expects 10 to 15 such malls over the next few years.
But with Canada's once exceptional economy showing signs of U.S.-like fatigue and a strong Canadian dollar still fuelling cross-border shopping, some experts think the splashy premium mall premise may not live up to the hype.
"The steam is coming out of our economy a little bit, and I have maintained for a while that I think a lot of U.S. manufacturers and retailers and developers frankly may be miscalculating to some extent the voracity of our economy," said Doug Stephens, president of consultancy firm Retail Prophet.
RIVAL PARTNERSHIPS
The RioCan/Tanger plan to open one mall near Toronto next year, and then more near places like Ottawa, Montreal, Edmonton, Calgary and Vancouver, is just half of a retailing juggernaut headed for the relatively untapped Canadian market.
The rival partnership of Calloway and Simon Property Group Inc is eyeing the Canadian market in part because the sluggish U.S. economy has slashed sales at U.S. premium outlets, where high-fashion names like Ralph Lauren, Burberry and Saks Fifth Avenue don't draw the spending they once did.
A comparison of income growth also shows why Canadian shoppers may hold more promise than their U.S. cousins. Per capita disposable income has risen 14 percent in the last 10 years in Canada, adjusted for inflation, while U.S. disposable incomes are up just 9 percent, says BMO Capital Markets deputy chief economist Doug Porter.
Sales at shopping centers in Canada average about $580 per square foot, compared to $309 in the United States according to a recent report by Colliers International.
Sonshine said there are about 135 premium outlet malls in the United States - with a population of some 311 million - but none in Canada, home to 34 million. Canada also lacks the large luxury malls which are common in the United States and thus seems ripe for expansion.
"Using the usual metric of 1-to-10, I figure there's maybe room for a dozen of them here, maybe as many as 15, Sonshine said. "I will say between Simon and ourselves/Tanger there will be a half a dozen (premium malls) operating by 2014."
Canadians have proved willing to travel for deals, destination shopping that Sonshine said sets an outlet excursion apart from a regular trip to a regional mall.
"The average visit to an outlet lasts for three and a half hours by a consumer whereas the average visit to a typical shopping centre is less than an hour. So it's more of an outing," Sonshine explained in an interview.
Even so, not everyone agrees that if developers build the malls, Canadians will necessarily show up.
Retail Prophet's Stephens has crunched a lot of the same numbers the developers have, with some different conclusions. While Canada has just half as much retail space per person as the United States, he thinks the lesson may be that Canada is not as under-retailed as the U.S. is over-retailed.
"I don't view the opportunity in Canada to be as vast and as unbounded as I think a lot of Americans do," said Stephens. "I personally don't think we'll see 10 to 14 of them. I think we might see half a dozen get built and I think a lot of it is going to depend on how our economy performs."
While he admits the premium discount mall format will likely appeal to the healthy segment of the market that treks south of the border for deals - the destination shoppers - Stephens said consumers have also become more savvy, realizing that the goods sold in outlet malls are not the same as sold in regular stores.
"If you're going to a premium outlet mall really anticipating that you're going to be able to buy high-end designer fashions that you would normally get in a full-line store and you're going to be able to get them at 50 to 70 percent off, then you're really deceiving yourself."
PRICE RULES
But not everyone is as sceptical.
"The factory outlet model has been specifically built around the search for the great deal," said Tony Hernandez, director of the Centre for the Study of Commercial Activity at Ryerson University in Toronto.
"As we see more U.S.-styled factory outlets open on our doorstep, there will be less incentive to make the trip across the border. But it will all come down to the trade-off between convenience and price," Hernandez said in an email.
Retail prices for identical goods are typically 10 to 50 percent higher in Canada than in the United States, a much-resented differential that experts blame on import duties, transportation costs, government regulations and simple retail mark-ups. If the new outlet malls have the same price differentials, cross-border shopping may still win out.
Porter said the success of the venture may ultimately come down to the Canadian dollar and new, more generous limits for what Canadians can bring home duty-free after a U.S. trip.
The Canadian government in June doubled duty-free limits for Canadians to C$800 ($780) for a trip lasting two to seven days. It boosted the limit for some shorter stays to C$200 from C$50.
With the Canadian currency near parity with its U.S. counterpart and Canadian sales taxes relatively high, consumers may still find a better deal in the United States than in a shiny new mall at home.
"At the dollar's current levels I think there's still that magnet for Canadian shoppers to go to the States," Porter said.
© Thomson Reuters 2023 All rights reserved.