U.S. luxury spending grows, wealthy are happy-survey
(Reuters) - Spending on luxury goods by affluent Americans is forecast to grow by $28 billion in 2010, experts said on Wednesday, and the wealthy are happy despite most believing the United States is still in recession.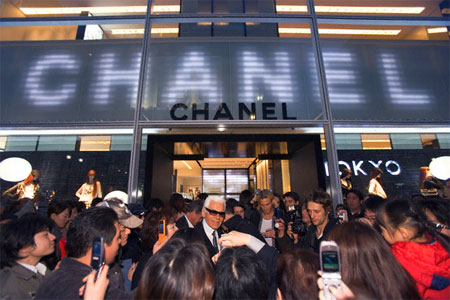 Karl Lagerfield attends Chanel store opening in Tokyo. Photo: Corbis
The "Survey of Affluence and Wealth in America" found luxury spending would rebound for the first time in three years, led by purchases of automobiles, services, travel and children's clothing.
But the online poll of 1,900 households with an average annual income of more than $235,000 by American Express Publishing and Harrison Group showed 94 percent still believe the United States is in recession.
The households surveyed between January and April represent 10 percent of Americans and 50 percent of all retail sales.
"Interest in luxury is trending up, but this interest is qualitatively different from the unbridled enthusiasm that characterized ... the mid-2000s," said Jim Taylor, Harrison Group's vice chairman. "People take pride in the way they have managed their finances and family through the recession."
"We think it's going to be a pretty good Christmas (for retailers)," he said.
And this pride had led to happiness among the rich, with 71 percent saying they are happy, up from 40 percent in 2007.
"It's because they didn't know they could survive something this bad," Taylor told the Luxury Marketing Council of New York on Wednesday. "They have got competent, they have gotten close to their family, they have self-esteem from their ability to handle a crisis."
"Happiness is now the abiding object of affluent American life, not success," he said. "They're really happy with their ability to operate under pressure."
More than 80 percent of families are now eating at least four meals a week together, compared with 16 percent five years ago, Taylor said.
The survey also found the recession has resulted in more people measuring their success by their personal lives, not their careers. Only 45 percent said they were successful in 2007, while this year 76 percent consider themselves successful in their personal life and 67 percent in their career.
"In (2007) people were really measuring themselves about the bigger house they were going to buy ... the better vacation, the next promotion," said Cara David of American Express Publishing.
"Few people are judging their success that way anymore," she said. "It's about the lives that they're living rather than the living that they're making."
© Thomson Reuters 2023 All rights reserved.