U.S. April retail sales to shed light on economy
NEW YORK, May 4 (Reuters) - Warm weather and a desire to refresh tired wardrobes helped the biggest U.S. retailers increase sales in April, showing consumers are ready again to propel economic growth.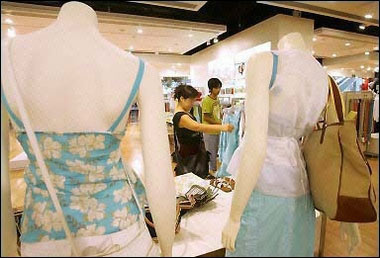 Photo : Frederic J. Brown/AFP

By Dhanya Skariachan
Retail chains ranging from Target Corp (TGT.N) to J.C. Penney Co (JCP.N) to Abercrombie & Fitch (ANF.N) will report sales at stores open at least year -- an industry gauge known as same-store sales -- on Wednesday 5 May and Thursday 6 May.
Analysts are expecting same-store sales to have risen 1.6 percent in April, compared with a drop of 2.7 percent last year, according to Thomson Reuters data.
That follows a record 9.1 percent rise in March, when consumers moved up spring purchases due to an early Easter holiday. Many industry experts are looking at the combined two-month results as a better gauge of consumer strength.
An April increase would also mark the eighth consecutive month of rising sales after a year's worth of declines as consumers warm up to spending on nonessential items again and retailers craft new strategies to entice shoppers.
"Consumers appear to be awakening. Many who spent 2009 postponing sales are now emerging from their cocoons and spending," said Lawrence Creatura, a portfolio manager at Federated Clover Investment Advisors in Rochester, New York.
Retail outlets are also waking up to the opportunities, striking a better chord with revamped fashions.
"There are reasons to reload your wardrobe," he said.
Analysts expect same-store sales in the March-to-April combined period to rise 5.4 percent, up from a 4 percent gain in February and a 3.3 percent rise in January.
"Retailing is contagious for the consumer. If they start to spend, they continue to spend. Nothing's really happened in April that has been so negative that the consumer is going to disappear," said NPD Group analyst Marshal Cohen.
Cohen said, however, that April could be a mixed bag for individual retailers, with some enjoying a spillover effect from March, while others do not see shoppers returning after the early Easter.
APRIL SUN LURES SHOPPERS
Unlike April 2009, which was the wettest in four years, this April was relatively dry and warm, particularly the first two weeks, according to Evan Gold at Planalytics, which provides weather data for businesses.
He expects chains with stores in the eastern United States to have benefited the most.
Wedbush analyst Betty Chen said she expected slightly softer trends in the back half of April as temperatures cooled, especially in the U.S. West and Midwest.
Analysts are expecting slower sales growth at teen apparel chains, which include retailers like Hot Topic (HOTT.O) and American Eagle Outfitters (AEO.N), compared with March.
"Some stores have done really well. The consumer spends a lot and then needs to kind of catch their breath," Cohen said, referring to the teen segment.
Wedbush's Chen expects apparel retailers like Gap (GPS.N) and Urban Outfitters (URBN.O) to outdo the teen segment as they benefit from pent-up demand, better fashions and easier comparisons.
Retailers of footwear and accessories are also poised to benefit from a change in season, new products and fashion shifts, analysts said.
Chen expects Aeropostale (ARO.N) and Gymboree (GYMB.O) to raise their outlooks and Gap to issue a better-than-expected forecast on Thursday 6 May.
Americans will also likely boost spending on their homes as they spruce up gardens and take advantage of tax rebates to replace old appliances.
"The home, lawn and garden in particular, is going to have a field day," NPD's Cohen said.
Despite the general optimism, analysts remain picky about the retail sector as many stock valuations already reflect a recovery in consumer demand.
Chen sees more room for growth for stocks of retailers such as Talbots (TLB.N), Aeropostale and Gap. She also lauded efforts of chains like AnnTaylor (ANN.N) to improve their fashions and customer experience.
"2008-2009 was a great wake-up call for many of these companies," she said. (Reporting by Dhanya Skariachan, editing by Maureen Bavdek)
© Thomson Reuters 2023 All rights reserved.