Tween Brands posts Q2 loss, to shut Limited Too stores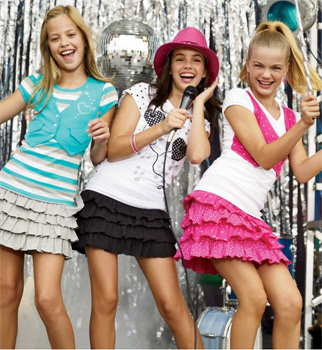 www.tweenbrands.com
Aug 12 (Reuters) - Teen-apparel retailer Tween Brands Inc posted a surprise second-quarter loss on weak sales of its core Limited Too brand and said it plans to close 26 underperforming Limited Too stores by the end of 2008, sending its shares down 17 percent.
The company also said it will convert all its Limited Too stores in the United States to its secondary brand, Justice, and take a related charge of 45 cents a share in the second half of 2008.
"In these tough economic times, our customers are seeking the more value-oriented apparel available at Justice, which is priced on average approximately 20 percent to 25 percent lower than Limited Too," Chief Executive Mike Rayden said in a statement.
Including the restructuring charge, Tween Brands expects to earn about 35 cents to 65 cents a share on sales of $577 million to $592 million in the second half of 2008.
The company expects sales at its stores open for at least a year to fall 6 percent to 9 percent during the period.
Justice brand, which has about 310 stores as of now, will have more than 900 stores in the United States by the end of the first quarter of 2009, a selected few of which will continue to sell Limited Too branded products.
The company expects the shift of focus to Justice to generate annualised after-tax savings of $20 million to $25 million, a majority of which would come from reduced headcount.
The New Albany, Ohio-based retailer reported a net loss of $6.7 million, or 27 cents a share, for the second quarter, compared with a profit of $2.1 million, or 7 cents a share, a year earlier.
Net sales rose 4 percent to $223.1 million.
Analysts were expecting the company to break even, before special items, on revenue of $244.7 million, according to Reuters Estimates.
Sales at stores open at least a year fell 8 percent, dragged down by a 11 percent drop at the Limited Too stores. Same-stores sales at the company's Justice stores rose 3 percent for the quarter.
Shares of the company fell to $12.42 in trading after the bell. They closed at $14.88 Tuesday on the New York Stock Exchange. (Reporting by Sriram Iyer in Bangalore; Editing by Pratish Narayanan, Anil D'Silva)
© Thomson Reuters 2023 All rights reserved.