Tupperware parties and Avon ladies are back
By Edward McAllister
NEW YORK (Reuters) - The Tupperware party is back and Avon is calling again, ushered in by the U.S. recession.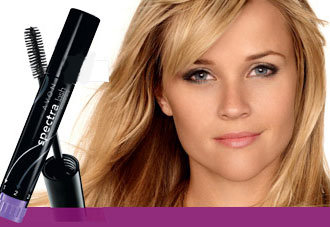 Avon Spectra Lash Mascara
In the worst economic downturn since the Great Depression of the 1930s, women are selling everything from eyeliner to food containers to make extra cash -- boosting profits at companies such as Avon and Tupperware.
The flexibility of such work means that women, even with existing jobs and kids to care for, are taking on direct sales work in increasing numbers.
Food container-maker Tupperware, whose latest quarterly profit beat expectations, said its sales force rose 4 percent this quarter year on year.
Tupperware's popularity exploded in the 1950s as women of the post-war generation sought empowerment and independence through selling, and the recession has rekindled the spirit of the Tupperware party for a new generation.
Tupperware sales rep Judy Montalbano, while hosting a recent Tupperware party in the leafy New York City borough of Queens said that she took the job in May because it was flexible and paid good money.
She hosts about two Tupperware parties each week, but also sports her Tupperware badge while out shopping in case a selling opportunity arises.
"It does help pay the household bills and the extras," said Montalbano. "My husband is looking to retire next year. Everyone is looking to make extra money with the state of the economy."
In a busy dining room with a table filled with Tupperware products, from banana keepers to pencil cases, Montalbano gave her sales pitch to half a dozen women.
"The parties are coming back stronger now that people are staying at home more. They aren't going out as much so they need to entertain at home," said Ellen Lessman, a party guest.
AVON, MARY KAY ALSO RISING
Tupperware is not alone.
Avon Products, which sells beauty products and is famous for its "Avon calling" slogan, posted higher-than-expected second quarter profits and reported an 11 percent growth in active sales representatives year on year, to 5.8 million people worldwide.
"We've been successful at gaining representatives and consumers during these tough economic times," said Andrea Jung, Avon chairman and chief executive.
Mary Kay Inc, which also sells beauty products, saw its sales forces hit 2 million for the first time this year, an increase it puts down to the recession.
Women already with jobs are also taking on sales roles to bolster existing income. Christine Calvanese, a nurse from Staten Island in New York who works part time for Avon, said that working to her own schedule made it ideal.
"It is nice to have another option, especially in this economy," she said. "I knew it would be great to supplement my other income with Avon."
Nicole Robinson, who works in the pharmaceutical industry in Dallas, Texas, said she became a beauty consultant for Mary Kay on the side last August because of a lack of job security.
"We are in a time where the job market is tightening. There are companies all around in the industry that are pursuing lay off situations," said Robinson, who has two young children. "I wanted to make sure I was not affected by that."
The rush for sales jobs like these means companies that have large ranks of "direct sales" personnel can swim against the current of a recession, analysts say.
"The outlook for direct sellers as an industry is probably pretty good in this environment, while many other companies in the consumer world are wondering when they are going to get a next sale," said Connie Maneaty, analyst of cosmetics, personal care & household products at BMO Capital.
(Editing by Michelle Nichols and David Storey)
© Thomson Reuters 2022 All rights reserved.