Traders fight eviction from Warsaw bazaar
WARSAW, July 21 (Reuters) - Hundreds of traders fought pitched battles on Tuesday 21 July with security men trying to evict them from a bazaar in central Warsaw seen as a symbol of the raw capitalism that sprouted up in the early 1990s.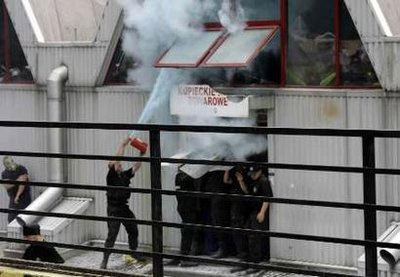 Security guards battle to enter the indoor bazaar in the centre of Warsaw - Photo: REUTERS/Peter Andrews
The traders used stones, fire extinguishers and teargas to prevent the security men entering the red and white metallic KDT building, which has housed clothes and shoe stalls since the free-wheeling days that followed the fall of communism in 1989.
The authorities want to dismantle the building and erect a museum of modern art in its place. Under a court order, the traders were meant to have left the premises two days ago.
"When the town hall official tried to enter the building to convince traders to leave, he encountered tough resistance from the traders who had locked themselves inside," said Tomasz Andryszczyk, a spokesman for the municipality.
Dozens of security guards and Warsaw policemen tried to storm KDT several times during more than three hours of clashes which were broadcast live by Poland's three news TV channels.
Traders sang the Polish national anthem. Several people were injured in the clashes.
"Help us save our jobs! This is our whole life," one of the tradesmen said.
The city authorities have offered an alternative venue to the traders on the outskirts of Warsaw. But they prefer the current location because it is very central, next to Warsaw's trademark Stalin-era Palace of Culture.
(Writing by Gabriela Baczynska, editing by Gareth Jones)
© Thomson Reuters 2022 All rights reserved.