Tour de force from fashion's top-flight designers of luxury
PARIS, July 5, 2007 (AFP) - From John Galliano's celebration of 500 years of painting at Christian Dior to Jean-Paul Gaultier's irreverent take on European and Indian royalty, the latest round of haute couture shows for winter 2008 began and ended on an upbeat note.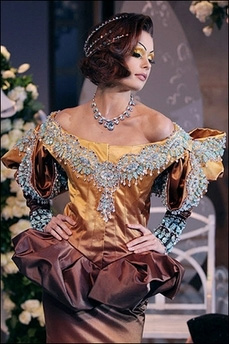 A creation by designer John Galliano for Christian Dior fall-winter 2007/08 Haute Couture show in Paris

Photo : Francois Guillot/AFP
Even if the numbers of true couturiers seems to dwindle every season, the die-hard remaining few are determined not to go down without a fight.
Galliano's show for Dior to mark the house's 60th birthday and his own 10 years as artistic director was a veritable tour de force in the appropriately grandiose setting of the orangerie at the Chateau de Versailles.



He recruited a bevy of top past and present super models to present his exquisite gowns inspired by the works of great artists from Leonardo da Vinci and Caravaggio through to Picasso, after which the celebrity guests partied until dawn.
For Christian Lacroix it was also an emotional milestone, 20 years since he founded his own couture house. His poetic, sumptuous collection was a resume of his past two decades, with his hallmark matador hats and jewel-encrusted boleros, jet-embroidered black lace and dramatic damask and taffeta ballgowns inspired by the Spanish old masters.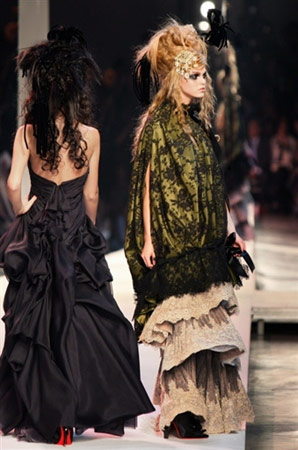 Creation of Christian Lacroix fall-winter 2007/2008 Haute Couture show in Paris, Tuesday, July 2nd

Photo : Pierre Verdy/AFP
It earned him a standing ovation and the traditional pelting with carnations provided on the seats when he took his bow on the runway.
Karl Lagerfeld's show for Chanel looked perilously close to being rained off, but went ahead under a steady drizzle at the orangerie of St. Cloud outside Paris.
For daytime he went for a big cover-up with medieval style cowls and hoods incorporated into jackets or dresses, and toning stiletto boots disappearing up the thigh, to go with his latest version of the Chanel skirt suit or short, boxy winter coats with half belts.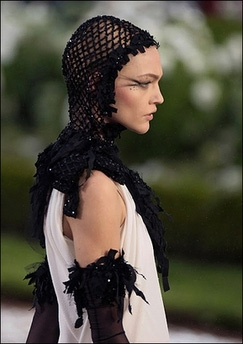 Creation of Karl Lagerfeld for Chanel fall-winter 2007/2008 Haute Couture show in Paris,

Tuesday, July 2nd - Photo : François Guillot/AFP
His evening gowns were fragile, ruffled and lace affairs with delicate, feathered headgear, in the muted tones of a Fragonard painting.
Gaultier, still living up to his 'enfant terrible' reputation at the ripe age of 55, poked fun at royalty, from the Plantagenets and tinpot European principalities to maharajahs.
His show was a riot of Ruritanian-style military jackets, bristling with gold braid and epaulettes, sleeves emblazoned with badges and tasselled Sam Browne belts.
For Indian princelings there were leopard print jodhpurs, Rajastani silk brocade jackets and plumed turbans.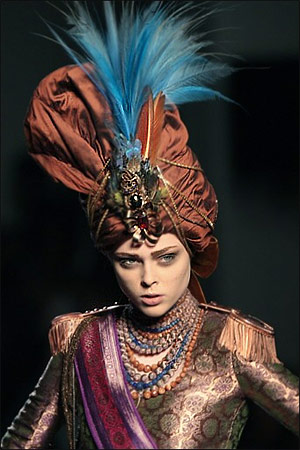 Creation of Jean-Paul Gaultier Creation fall-winter 2007/2008 Haute Couture show in Paris,

Wednesday, July 4th - Photo : François Guillot/AFP
He even overturned tradition by showing a bridegroom instead of a bride, albeit wearing a sari as a veil.
"It is the woman who is strong, she can be military but at the same time sensual, sensitive and romantic," he explained after the show, which had more trousers than skirts -- but then that is not a problem if it is the woman who is wearing them.
The 32-year-old Italian Riccard Tisci at Givenchy saw a similarly dominant role for his women, dressing them as urban huntresses in alligator skin, snakeskin, fox and big cat spots.
But his walk on the wild side did not lead him away from taut-tailoring and wearability, making it his most successful collection yet for the house which he only joined in March 2005.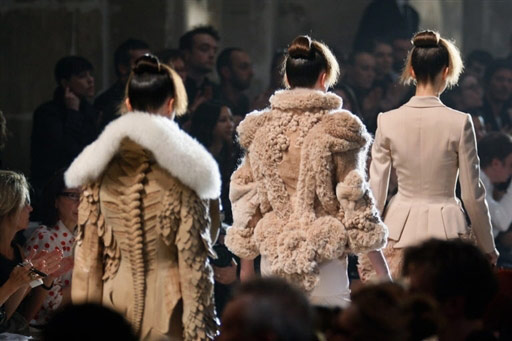 Creation of Givenchy fall-winter 2007/2008 Haute Couture show in Paris, Tuesday, July 3rd

Photo : Pierre Verdy/AFP
For the more conventional concept of red carpet gowns, Elie Saab showed a plethora of suitable attire for silver screen goddesses, without the usual competition from Valentino, who is unveiling his collection in Rome at the weekend where he will get undivided media attention for his celebration of 45 years in the business.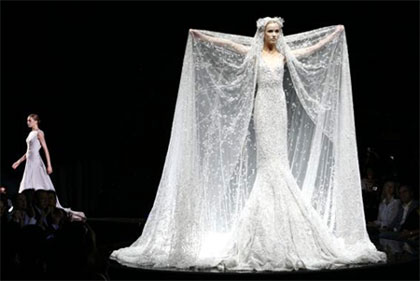 Creation of Elie Saab fall-winter 2007/08 Haute Couture show in Paris Wednesday, July 4th - Photo : Jacques Brinon/AFP
On the sidelines of the catwalk shows, Martin Margiela, the master of deconstruction in fashion, presented a capsule collection of a dozen items demonstrating his couture skills, from a biker's jacket in frayed tweed, combining the macho with fragile femininity, to jeans sprinkled with "faux" sequins made from circles of vintage denim.
His star piece crossed a women's cocktail frock with a man's dinner jacket in midnight blue and black with a tiny trim of strass.



by Sarah Shard
Copyright © 2023 AFP. All rights reserved. All information displayed in this section (dispatches, photographs, logos) are protected by intellectual property rights owned by Agence France-Presse. As a consequence you may not copy, reproduce, modify, transmit, publish, display or in any way commercially exploit any of the contents of this section without the prior written consent of Agence France-Presses.