Tough to let go for 70-something fashion designers
By Astrid Wendlandt and Marie-Louise Gumuchian
PARIS/MILAN, Dec 15 (Reuters) - Italian designer Giorgio Armani, who turned 75 in July, may be the pride of Italian fashion and a godfather of the industry but he is not immortal.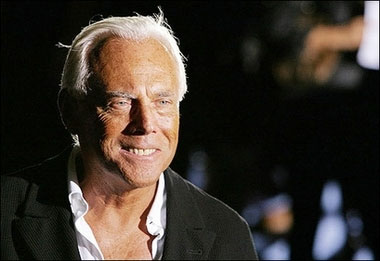 Giorgio Armani - Photo : Carl De Souza/AFP
After suffering a bout of hepatitis, Armani says he is back in action but he looks thinner and frailer than before in spite of his permanent tan, raising the question ever more urgently of who will succeed him.
Armani will not divulge who could possibly take up the reins of his empire worth $2.4 billion in annual sales, only saying he is grooming a chosen few. Insiders predict he will keep everybody guessing until the last minute.
But if mystery around his succession is understandable for commercial reasons, it is also a powerful reminder of how taxing and emotional it is to replace the founder and creative soul of a fashion house, particularly while he is still alive.
"Succession is an emotionally charged thing, especially when you talk about people like Armani who own the business," Burberry's (BRBY.L) Chief Creative Officer Christopher Bailey told Reuters last month.
The history of fashion is littered with examples of traumatic experiences and designers ousted after a short-lived attempt at filling the founder's shoes.
Tom Ford openly admitted Yves Saint Laurent made his life a misery when he took over as chief designer of the French fashion house in 1999. The founder of the fashion house was not supportive Ford's work and complained he did not respect the brand's heritage.
Today, the website of the Yves Saint Laurent maison does not even mention Ford in its corporate history section even though he worked there for four years.
Timing also plays a crucial role when planning a transition. Fashion experts say Valentino Garavani left his company too soon after it was bought by private equity firm Permira in 2007.
Unsurprisingly for many observers, Valentino was critical of his replacement Alessandra Facchinetti who lasted less than a year and left "embittered".
STRIKING THE RIGHT TONE
Emanuel Ungaro has been through several stylists since the eponymous designer retired in 2004 -- critics say it is still struggling to strike the right tone, even though the company argues it is heading in the right direction.
Lars Nilsson, who replaced Gianfranco Ferre -- Dior's former designer -- after his death in 2007, lasted five months at Ferre and was given the boot just days before one of its shows.
"Few people are able to let go ... Sometimes, it is just out of vanity," said Jean-Jacques Picart, fashion adviser to Bernard Arnault, head of the world's biggest luxury group LVMH (LVMH.PA), referring to long-standing founding designers.
The passing of the artistic torch is one of the most discussed subjects in the fashion world as it can make or break the survival of the brand -- but no fashion house is willing to talk about it officially.
Aside from Armani, the clock is ticking for a number of other fashion companies headed by 70-something designers including Ralph Lauren and Oscar de la Renta in the United States and Karl Lagerfeld at Chanel in France.
The question will also eventually pose itself for Donatella Versace and Miuccia Prada.
KEEPING MUM
Oscar de la Renta, whose founding designer is 77, did not respond to emailed requests for comments and the team behind Ralph Lauren, aged 70, also did not answer phone calls or emails about his succession.
Likewise, Chanel refused to be drawn on the subject.
"Karl Lagerfeld is the creative director of Chanel and enjoys a long-term contract which is absolutely not put into question," the fashion house told Reuters in an e-mailed statement. "His succession is not on the agenda."
German-born Lagerfeld, 71, has successfully kept Chanel's two-tone flat shoes, camelia brooches and woollen suits as luxury must-haves since 1983 while consistently refreshing the brand.
"Karl is not ready to pass on the torch," said Picart.
However, other people close to the maison say it is inconceivable that Chanel is not thinking about his succession.
Most fashion houses have several candidates in mind for the day when their top designer leaves but they keep the name secret to prevent their potential new recruit from being poached.
"King Giorgio" as he is called in his home country, Armani might not have said who will replace him but he has delegated more responsibility to non-family members.
He expanded the board with a new deputy chairman and appointed a finance director and general manager.
"Of course I am not eternal, there comes a time when you must hand it over," Armani told reporters in October in Moscow, where he staged two fashion shows.
Fashion veterans say founders often struggle to find a person good enough to replace them.
"He's (Armani) not the classic designer who wants to stay in the creative part and delegates the rest to managers," said Roberto Jorio Fili, a former executive at fashion houses Roberto Cavalli, Valentino and Gianfranco Ferre.
"Armani is the business. Not one person can replace him on their own, it would have to be several people and I think that's what he's probably thinking."
(Editing by Paul Casciato)
© Thomson Reuters 2023 All rights reserved.