Top 10 Holiday Picks: Pampered pooch gifts
NEW YORK (Reuters Life!) - From doggy perfume to paws nail polish to a Louis XV-style dog house. As people's obsession with their pets reaches an all-time high, so has the list of holiday gifts available for pampered pooches who are treated as family rather than just animals.
Spending that would once have seemed extravagant, such as on doggy day cares, pet cemeteries and dog strollers, have become commonplace with Americans estimated to spend about $48 billion on pets in 2007 -- nearly twice the amount of a decade ago, according to consumer research company Packaged Facts.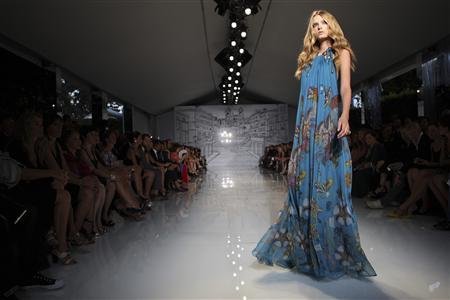 But probably the most pampered of the lot are dogs, with the American Veterinary Medical Association estimating there are 72 million canine pets in the United States and Web sites galore catering for their holiday whims.
Here are 10 of the more unusual gifts for pampered pooches this holiday:
1. Perfume for Pooches
Upmarket London pet shop Mungo & Maud hired a perfumer to create a fragrance exclusively for dogs, named Petite Amande. Costing 38 pounds ($78.60) for a 50 ml glass bottle, it is described as "a gentle fragrance inspired by nature with notes of French blackcurrant, Tunisian neroli, mimosa and violet leaf on a base of sweet vanilla bourbon with a little almond."
2. The Pedigree Tree
You've mapped out your family tree, now map out your dog's. For up to $100, you can buy a customized, full color Pedigree dedicated to you animal friend's unique ancestry, purebred or mixed. www.thepedigreetree.com
3. Doggies photo treats (PIX)
Mix food with artistry. These doggy treats feature an edible photo of your dog on the treat itself. People-grade ingredients include Alaskan salmon and roast beef and potato. $3.50 each. (http://www.mydogsbakery.net)
4. Coffee for dogs (PIX)
Want to go grab coffee with your best friend? While you have a cappuccino, your dog can have Doggy Java that comes in a coffee bag, looks like coffee when mixed with water, and is served in a specially designed canine cappuccino cup that comes with a bonescotti biscuit (http://www.doggjava.com)
5. All terrain dog stroller
Why walk when you can ride? A range of dog strollers are now on the market with price ranging widely, and including more and more snazzy versions, such as the $400 stroller/bike trailer with optional ski attachment justpetstrollers.com/
6. Louis XV dog house
For just $23,990, your pooch can sleep in a Louis XV style pet pavilion, handcrafted in the style of an 18th century French rosewood commode with splayed feet and handcarved and water gilded detailing (http://www.pawprintzpetboutique.com/pet-pavilions-louis-xv.htm) 7. Juicy Crittoure "Polished Paws" Nail Polish
Split, dulls nail? Jazz them up with some nail polish. The manufacturer, selling pink or brown nail polish for $14 a 0.5 ounce bottle, says "it's claw the rage." You might need paw polish remover pads for $15 and perhaps a softening paw balm for $28. Available at shop.nordstrom.com
8. Pet Armoire
Every well-dressed dog needs a wardrobe to keep his or her clothes. Silver Spoon Luxury Pet Boutique, an online retailer, has a range starting from about $105 to $349 for a dollhouse-style armoire (http://silverspoonpetboutique.com)
9. Edible greetings cards
With the slog "developed by vets, devoured by pets," Crunch Card has come up with a range of edible greetings cards for pets with water-based non-toxic ink (http://www.crunchkins.com)
10. Paw Made Labels
These designer doggie labels are a creative and quirky way for you to show off your dog's mug. Just upload a snapshot of your pup to create a customized case of canned food, personalized with his or her picture and name. (http://www.castropolluxpet.com)
(Reporting by Belinda Goldsmith; editing by Patricia Reaney)
© Thomson Reuters 2022 All rights reserved.