Time, not bling, is the ultimate luxury
May 27 - They may be trying to sell you that $10,000 suit or $35,000 necklace, but what luxury's tastemakers really yearn for themselves is not material at all.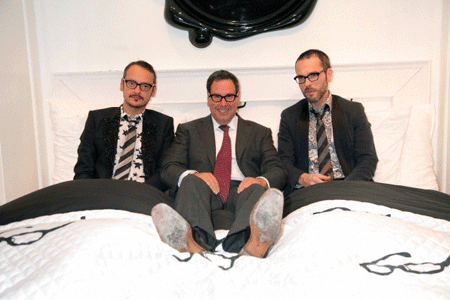 Viktor Horsting, Steve Sadove (Saks CEO) and Rolf Snoeren attend Fashion's Night Out 2010 at Saks Fifth Avenue (Photo: Corbis)
Make no mistake, they love swanky cars, rare watches, fine art, haute couture and private vacation retreats. Still, when asked about their definition of luxury, the answers involved precious quantities like time, and freedom.
"It's doing what I want when I want. Luxury is not material," Jean-Marc Jacot, the chief executive of Swiss luxury watchmaker Parmigiani Fleurier, told the Reuters Global Luxury Summit.
Top executives from design houses and high-end chains on both sides of the Atlantic couldn't agree more.
"For sanity's sake, people should not give up their vacations ... I think that psychologically, it is a nice little reset button for everyone," said Jennifer Hyman, co-founder and CEO of designer gown rental service Rent the Runway.
Steve Sadove, CEO of upscale department store chain Saks Inc, was mighty glad to get another watch from his wife to add to his collection. But what he craved was some spare time.
"(Luxury is) products that are special, that are differentiated, that make me feel taken care of and pampered. To me, luxury is time."
Investors who compulsively check their BlackBerries and news terminals for the next big bankable idea are eager to take some time off, too.
"For me, luxury is a good hamburger and time with my family," said Shawn Kravetz, president of Esplanade Capital.
"I would describe luxury as something that puts a little spring in your step and something that makes you feel just a little bit better about yourself," Kravetz said.
As the CEO of an online fashion retailer that serves more than 100 countries and powers websites for top fashion brands such as Valentino and Roberto Cavalli, Federico Marchetti of Italy's Yoox is understandably busy.
He, too, yearns for a relaxing pause in this fast-paced world.
"Everything is much faster. We are connected 24 hours a day. I think that time really is a big luxury, especially for people like me," Marchetti said.
By Dhanya Skariachan
(Additional reporting by Phil Wahba in New York; Astrid Wendlandt, Antonella Ciancio, Victoria Bryan and Silke Koltrowitz in Paris; editing by Gerald E. McCormick)
© Thomson Reuters 2023 All rights reserved.