The World Of Apparel Sourcing 2010-2012
Research and Markets adds "The World of Apparel Sourcing: 2010-2012" report to their offering.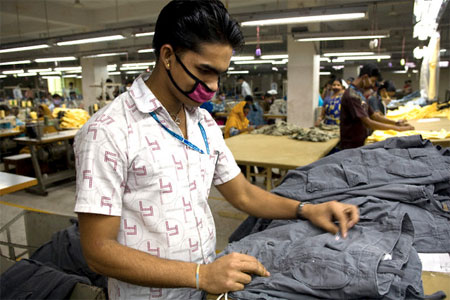 Garment workers in Bangladesh work on trousers for U.S. Wal-Mart. Photo : Corbis
Sourcing garments went through an extraordinary roller-coaster between 2005 and 2009. Demand boomed for many manufacturing countries. Rules about duty and quotas changed bewilderingly often.
Countries relative competitiveness changed frequently. Retailers and brands demands changed, the very process of sourcing began to be outsourced and consumer requirements, in fashion, quality and ethical compliance were in constant flux.
Then came the recession. It devastated many businesses, but as its savagery diminishes, many brands, retailers and manufacturers are in better competitive shape than they were before the recession hit. So are some manufacturing countries but others are in worse relative shape, especially those close to the EU and US. The World in 2012 reviews what has happened to the world apparel industry between 2007 and 2009. It looks at the underlying changes in the consumer and commercial environments. It analyses the effect of these changes on the apparel exports of the leading 90 garment exporting countries, and it predicts those countries likely performances between 2010 and 2012. Who should read The World in 2012 The World in 2012 is indispensable reading for:
* Clothing retailers
* Apparel Brands
* Clothing manufacturers throughout the world
* Fabric, yarn and trim suppliers to the apparel industry
* Commentators and academics
The key influences on garment sourcing in the Post-Post Quota World Between 2007 and 2009, garment sourcing was shaken by four separate, but linked, influences:
* Rapid growth in the worldwide market for clothing till early 2008, followed by an abrupt reversal into decline.
* Garment makers were weakened by difficulties in dealing with the constant changes in raw material, shipping and energy inflation, exchange rates and interest levels both during the boom and during the recession.
* The normal cycle of changing consumer, commercial and political pressures.
* The final abolition in early 2009 of all restraints on Chinese and Vietnamese exports to the EU and US.
From mid-2008 and through 2009, most buyers' and sellers' attention was focused on questions about recession and recovery, and businesses' ability to deal with them. But that diverts attention from one fundamental fact. Though many described the sourcing environment after 2005 as "the post quota world", continuing restrictions on China and Vietnam meant that only in early 2009 did the Post-Post Quota world emerge. The World of Apparel Sourcing 2010-2012 looks at the trends that influenced apparel sourcing between 2007 and 2009 and reviews which of them are likely to change between 2010 and 2012. It then makes detailed forecasts for the net effect on apparel exports from over 60 countries in 2010, 2011 and 2012.
For more information see report on
researchandmarkets.com
Copyright © 2023 FashionNetwork.com All rights reserved.