The first international jeans contest Jeansation
Jeansation, an international jeans contest, has just had its debut in Monaco. The competition, led by Martine Leherpeur, had to select the top 5 models out of one hundred from 18 different countries.

Two students from Esmod Tokyo were awarded: Sayaka Saito was unanimously voted best by the judges, while Saki Furoi was the winner among the press. Sayaka's outfit, consisting of trousers and a tailcoat, transformed denim into a very sophisticated wear by following the show's theme: haute couture.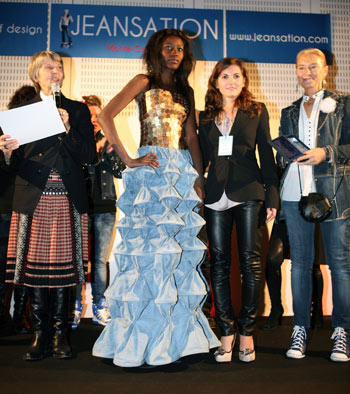 Ramona Stoica (centre)
The 2nd prize of Best Jeans was given to a young Colombian named Zaidy Goretty Celis Ramirez, graduated from Taller 5 Centro de Diseno. "Is is very rare to find a denim outfit so well-tailored", commented Martine Leherpeur. "The Best Jeans Complement" prize went to Bulgarian Darina Yanakieva, who perfectly combined denim and wool on a dress. Finally, the last prize for "Glamour" was awarded to Ramona Stoica from the Belgium Academy of Fine Arts Berchem-Antwerp.
Following its debut in Monte Carlo, Jeansation hopes to become a platform for young denim designers. 18 schools participated in the event, where France was represented by students from Esmod and IICC schools, from Lyon and Marseille respectively. The contest's 2nd edition should take place at the end of 2011 or in May/June of 2012. "It's a meeting place for designers and manufacturers. It's moving to see all of these young people who had to work so hard to be here in Monaco; coming from Singapore, Sweden, New Zealand or even Colombia", said Alexandra Icart, stylist and founder of the event.
Copyright © 2023 FashionNetwork.com All rights reserved.