Thanksgiving kicks off fight for holiday sales
The holiday shopping season starts in earnest on Thursday, with retailers anxious to see how willing U.S. consumers are to spend despite an endless stream of scary headlines about the fragile economy and their own precarious finances.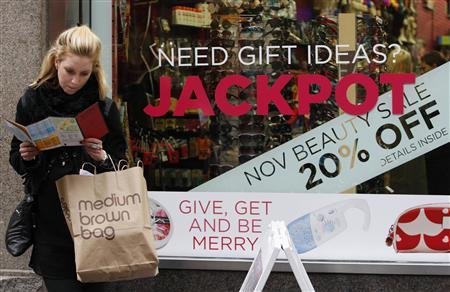 Photo: Reuters
The shopping period, which accounts for about one-third of annual sales for many chains, has been churning along for some time as retailers such as Wal-Mart Stores Inc and Toys R Us started early by offering layaway programs, and others offering major discounts to encourage buying.
But shoppers' verve has cooled of late and retail executives are predicting a more competitive season than 2010.
So when millions of Americans are done with their turkey dinners on Thursday, then head to stores to get a jump-start on "Black Friday" -- the single biggest shopping day of the year -- it will set the tone for the entire season.
"If Thursday and Friday are not very good, chances are it will not pick up going up to Christmas," said Keith Jelinek, a director at consulting firm AlixPartners's retail practice.
Wal-Mart, Gap Inc's Old Navy and Sears Holdings' Kmart are again open on Thanksgiving Day to get a headstart, while Toys R Us opens Thursday evening.
To narrow the gap in store hours with rivals, discounter Target Corp, electronics chain Best Buy and department store chains Macy's Inc and Kohl's Corp will open at midnight, their earliest-ever starts.
Others, including J.C. Penney Co Inc are opening early Friday morning as they did last year.
Retailers concede the pressure is on.
"At the end of the day, we are trying to respond to what our customers want to do, and they are telling us that's when they want to shop," Mike Vitelli, president, Americas and enterprise executive vice president of Best Buy, told Reuters.
The National Retail Federation expects sales in November and December to be up 2.8 percent over last year, but below 2010's 5.2 percent gain. So retailers, online and offline, see little margin for error.
BARGAINS OR BUST
Wal-Mart starts its Black Friday "doorbuster" deals on Thursday at 10 p.m. at its stores. Amazon.com Inc, not to be outdone, will offer its deals online at 9 p.m.
Newspaper inserts on Thursday morning were boasting of the usual Black Friday bargains designed to draw people into stores. For example, Old Navy was selling jeans for more than half off while Target was offering 46-inch, high-definition televisions for about 45 percent off.
The knock-down-drag-out fight comes as the rebound in sales cooled in October, when many top chains like Macy's and Saks reported disappointing sales.
It will be even tougher for chains that have struggled with sales declines lately, like Gap and Penney.
The NRF expects 152 million people to hit stores this weekend, up 10.1 percent from last year.
But much of that traffic will be fueled by bargain hunting, analysts said, with the real test coming after the weekend, when retailers see if spending happens only if there are big bargains on the table.
Last year, after a strong Black Friday weekend, shoppers sat on their hands until closer to Christmas.
This year, those looking for steals beyond the requisite Black Friday specials may be disappointed.
In a research note on Tuesday, Wells Fargo economist Mark Vitner said: "Bargain hunters may have a tougher time finding those markdowns this year, as retailers are keeping a sharper eye on profit margins."
After the weekend blitz ends, it may become a game of who blinks first -- the consumer or the merchant.
"I think as time goes on, you're going to see a leveling and a softness in the numbers," said Al Ferrara, director of BDO USA's national retail practice.
(Reporting by Phil Wahba in New York, additional reporting by Dhanya Skariachan; Editing by Bernard Orr and Maureen Bavdek)
© Thomson Reuters 2022 All rights reserved.