Taubman CEO says proud of luxury label
LAS VEGAS, May 19 (Reuters) - The head of mall owner Taubman Centers Inc (TCO.N) on Tuesday 19 May said he was not backing away from his company's identity as a luxury mall owner and operator, despite the hard knocks upscale retail sales have taken.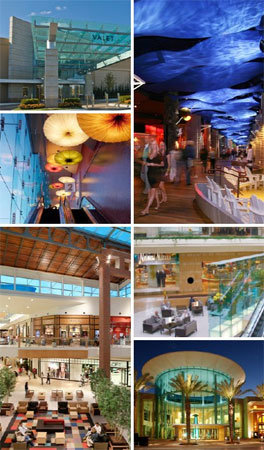 The Beverly Center in Los Angeles, one of the Taubman Centers Inc properties
"To call us a luxury mall is the correct moniker," Robert Taubman, chairman and chief executive, told Reuters.
Last month, Taubman, whose company owns or operates 24 U.S. malls, stunned some analysts when he pointed out that luxury retail represented only 10 percent of the company's sales.
Taubman said he was trying to underscore the fact that although Taubman centers are often home to pricey jeweler Tiffany & Co. (TIF.N) and shoes and accessories retailer Louis Vuitton, part of LVMH Moet Hennessy Louis Vuitton (LVMH.PA), luxury describes just a portion of its tenants.
The luxury names complement such mall standards as Chico's FAS Inc. (CHS.N) and Abercrombie & Fitch Co (ANF.N), he said in Las Vegas, where he was attending the International Council of Shopping Centers' annual convention.
The U.S. recession has inflicted much pain on the luxury market as U.S. consumers cut much of their discretionary spending. Upscale department stores such as Neiman Marcus Inc. NMRCUS.UL in April saw comparable sales fall nearly 25 percent from a year earlier.
Taubman said that while luxury is suffering and is currently out of fashion, it's not likely to die.
"Is this a cycle change or a secular change?" he said. "We know there's at least a cyclical change. We don't know if there's a secular change. But we believe for thousands of years people have been trying to differentiate themselves either through fashion or through higher quality goods."
Despite seeing sales fall 13.5 percent in the first quarter to $522 per square foot, Taubman's results were in line with other mall operators, who measure their sales on a run-rate over the past year. Measured that way, Taubman's sales fell about 6.6 percent.
The Bloomfield Hills, Michigan-based company is one of the best capitalized real estate investment trusts.
The company currently has no plans to cut its dividend or pay out its quarterly dividend in cash and stock. The company did not rule out raising equity in order to acquire new properties.
(Reporting by Ilaina Jonas; Editing by Gary Hill)
© Thomson Reuters 2023 All rights reserved.