Talking Strategy: Manufacturing Apparel in China
Research and Markets has announced the addition of Textiles Intelligence's new report "Talking Strategy: Manufacturing Apparel in China" to their offering.

China accounts for around a third of global clothing exports. Moreover, this share looks set to increase further even though rising labour costs and the appreciation of the renminbi in recent years have caused many to question Chinas ability to compete. Despite rising costs, the industry continues to be competitive on price and, more often than not, it is industries in other countries which have to lower their prices in order to remain competitive with the industry in China.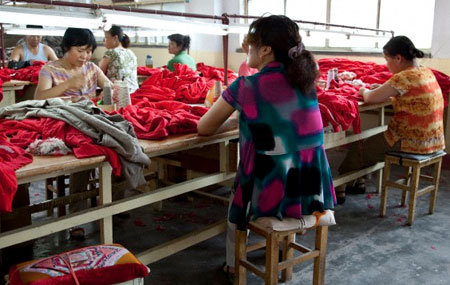 Women sit at their sewing stations working on cashmere sweaters in Qi Shan, Shaanxi, China. Photo : Corbis
Manufacturing in the country therefore remains upbeat, and this has been aided by the apparently speedy recovery of the Chinese economy. Furthermore, working conditions in China are improving as living standards do, and this acts as a selling point among Western buyers who take corporate social responsibility (CSR) seriously and are constantly on their guard to minimise adverse consumer perceptions.
Although the Chinese market appears to be an attractive one, Western companies must overcome a number of obstacles in order to succeed in it. Among the main obstacles are the language barrier and cultural differences. Measures must also be taken to monitor manufacturing facilities in order to ensure that goods meet the quality standards of the Western buyer rather than the Chinese manufacturer as there may be significant differences.
In Talking strategy this quarter, Danny Coyle, a director of the China-based company Imports Oriental, provides insight into manufacturing in China and points out the advantages and disadvantages. In doing so, he explains that the key to success is not to enter the country with a Western game plan, but to understand the language and the culture, and build up strong long-term relationships with suppliers.
Visit researchandmarkets for full report
Copyright © 2022 FashionNetwork.com All rights reserved.