Syms to close Filene's deal by about 18 June
NEW YORK (Reuters) - Discount apparel retailer Syms Corp (SYMS.O) said on Tuesday 16 June it expects to close its purchase of bankrupt retailer Filene's Basement Inc. as early as Thursday 18 June.
Approval of the sale is subject to a hearing set for 5 p.m. EDT Wednesday 17 June before U.S. Bankruptcy Judge Mary Walrath in Delaware.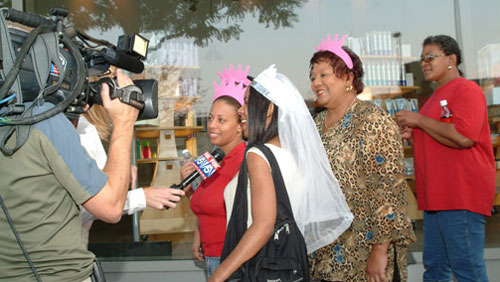 Filene's Basement - The "Running of the Brides"
Syms and developer Vornado Realty Trust (VNO.N) jointly offered $62.4 million for the majority of Filene's Basement assets at an auction on Monday 15 June.
"If its agreement is approved by the Bankruptcy Court, Syms expects to consummate the acquisition of the vast majority of the current operating Filene's Basement store leases, store fixtures and inventory on or about June 18," the company said in a statement.
The offer had beaten out a rival bid by Men's Wearhouse Inc (MW.N) and Crown Acquisitions, a retail real estate investment firm, and includes the leases for 23 Filene's stores, its trade name, inventory and distribution center, said Terry Corrigan of Abacus Advisors on Monday 15 June. The Men's Wearhouse-Crown bid was for $64.9 million and included the leases to 18 stores.
An earlier auction, which had accepted a Men's Wearhouse bid, had been contested and the auction had been reopened.
Syms operates a chain of 32 "off-price" apparel stores throughout the Northeastern and Middle Atlantic regions and in the Midwest, Southeast and Southwest.
Filene's Basement filed for Chapter 11 bankruptcy protection on May 4.
The case is In re: Filene's Basement Inc, U.S. Bankruptcy Court, District of Delaware, No. 09-11525.
(Reporting by Chelsea Emery, editing by Dave Zimmerman)
© Thomson Reuters 2022 All rights reserved.