Struggling US buyers may balk at high cotton prices
Jan 12 - U.S. consumers wracked by a shaky economy and steep unemployment will likely think twice about buying clothes from retailers trying to pass on cotton prices that recently scaled a 150-year peak, analysts said.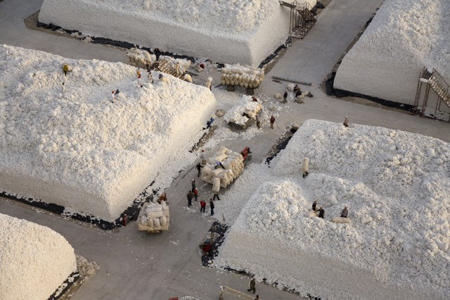 Cotton processing factory in China
Americans have for years been used to cheap, cotton clothing, especially when the fiber was hovering around 40 to 60 cents per lb.
But that will change in 2011 after cotton prices rallied to a level last seen in the 1861-1865 American Civil War.
Cotton on the ICE Futures U.S. exchange hit a record $1.5912 per lb on Dec. 21, 2010 and analysts expect it to jump to $2 this spring, given tight supplies.
So far, textile mills have had little trouble passing on the cost of cotton to retail stores or brand outfits. The question is whether they can continue to do so.
"I am not confident this trend will continue well into 2011," Gary Raines, chief economist at financial services firm FCStone, told Reuters in an interview.
"The typical U.S. clothing shopper is accustomed to – even conditioned to -- expect flat to lower year-over-year changes in apparel prices, and I don't see her maintaining the current level of purchases when prices begin to rise," he said.
Niche suppliers are already being hit, cutting out cotton in some instances because the fiber price is simply too lofty.
"The increase in cotton prices greatly impacted my spring collection," said Jennifer Fritz, chief executive of Bambeeno Cashmere, which specializes in high-end clothing for children among others. As a result, Bambeeno has halved its cotton-cashmere spring line-up.
T. Jordan Lea, chairman of U.S. cotton merchant Eastern Trading Co, said textile mills had been able to pass through price increases for the first quarter of this year.

ADJUSTMENTS WILL BE KEY
The key for many retailers and manufacturers will be how adept they are at containing the inflationary spike in cotton
VF Corp, whose brands include popular jeans such as Wrangler and Lee, said price rises were inevitable.
"Certainly many of the brands across our diverse portfolio are planning for selective price increases," a VF official said in a conference call last October.
Retailers such as Gap Inc and J. Crew -- which design their own clothes and sell them in their stories
-- can customize fabrics and designs, giving them some insulation from the price spike.
Baby clothes maker Carter's said cotton prices were "the big headwind" in its business.
"We are very focused on how we can deal with an abnormal spike in cotton prices," a Carter's official said in a conference call last year.
"We have raised prices for spring, not across the board, not 100 percent, to cover that cost increase."
FCStone's Raines said the full impact of sky-high cotton prices would not be felt until later in the year, when clothes made with fiber priced in the 2010 rally hit store shelves.
"We feel the surge in cotton prices has not trickled down the supply chain to retail store shelves just yet," he said, adding the pain in retail stores should begin to be felt in the second quarter of 2011.
U.S. garment imports typically spike around August -- before the latest surge in cotton prices -- as the year-end holidays approach, starting with Thanksgiving in late November and running to Christmas and the New Year.
"I have to wonder how a recalcitrant, frugal U.S. shopper with lackluster consumer confidence and facing relatively high unemployment will respond to this industry sentiment of higher prices ahead," Raines said.
"I fear she will not take well to the notion at all, meaning painful fallout awaits across the global textile supply chain for those without a comprehensive risk management plan in place."
By Rene Pastor
(Editing by Dale Hudson)
© Thomson Reuters 2023 All rights reserved.