Sportswear company sues Nike & Hall of Fame over Jordan
By Ben Klayman
CHICAGO (Reuters) - A Massachusetts sportswear company has sued Nike and the U.S. basketball hall of fame, claiming breach of contract and fraud related to the manufacture and sale of sportswear linked to Michael Jordan's upcoming induction into the hall.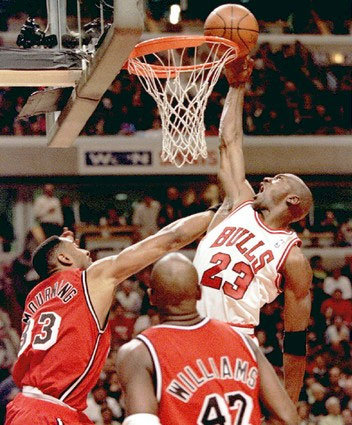 Photo: Sue Ogrocki/REUTERS
SportsFuzion Inc filed the lawsuit in Massachusetts state court late on Monday 22 June and is seeking more than $10 million (6 million pounds) in general and punitive damages from Nike and the Naismith Memorial Basketball Hall of Fame in Springfield, Massachusetts.
A Nike spokesman said company officials were reviewing the complaint, but believe it is without merit. Officials with the Hall of Fame could not be reached for comment.
The Millis, Massachusetts-based SportsFuzion said in court documents filed in the Norfolk Superior Court that in March 2006 it signed a contract with the Hall of Fame giving it exclusive worldwide rights to the organization's trade names, logos, trademarks, designs and photos for use in sportswear through 2012 or later considering renewal rights.
The lawsuit also charges Nike with interfering with a contract and charges both parties with unfair and deceptive trade practices.
Jordan, considered one of the greatest players in the history of the National Basketball Association, as well as a popular marketer whose image drives sales for sneakers and other sportswear bearing his name, will be inducted into the Hall of Fame in September.
SportsFuzion's co-founder and president, Andrew Mirken, said he foresaw in 2005 the potential for linking his company to Jordan's entry into the Hall of Fame.
"I knew that Michael Jordan's induction would be the biggest event in the Hall of Fame's history and, like his impact on the NBA and the game of basketball, this product opportunity was enormous," he said in a statement.
"Having Nike and the Hall of Fame go behind our backs to cut us out of the deal has become my worst nightmare," Mirken added.
SportsFuzion cited Nike's plan to release an Air Jordan Hall of Fame Collection this summer and the sportswear giant's recent launch of a marketing campaign to promote those sneakers and apparel. SportsFuzion pointed to estimates that Nike could sell more than $100 million of such products globally.
After signing its agreement in 2006, SportsFuzion said the NBA helped arrange meetings with several potential partners, including Nike and Adidas.
SportsFuzion said it met multiple times with executives from Nike's Brand Jordan, but Nike turned down a deal in November 2007.
SportsFuzion said two months later the Hall of Fame asked to renegotiate their deal, adding it did not understand the totality of the rights granted in the original deal and the agreement was not good for the Hall of Fame. SportsFuzion said in court documents that the Hall of Fame then claimed breach of contract and terminated their deal.
Beaverton, Oregon-based Nike is scheduled to report quarterly earnings late on Wednesday (24 June) afternoon.
The case is: SportsFuzion vs. Nike Inc and Naismith Memorial Basketball Hall of Fame, Norfolk Superior Court, Massachusetts, No. 09-01067.
(Reporting by Ben Klayman, editing by Matthew Lewis)
© Thomson Reuters 2023 All rights reserved.