Some retailers' sales beat, but threats loom
Mar 3 - Top retailers posted stronger-than-expected sales gains for February, a show of strength that could dissipate in March as a late Easter and rising gasoline prices take their toll.

The chains reported a rise of 4.2 percent in sales at stores open at least a year, according to Thomson Reuters data. Analysts had expected the Thomson Reuters index of 25 retailers to show a 3.6 percent rise in same-store sales last month.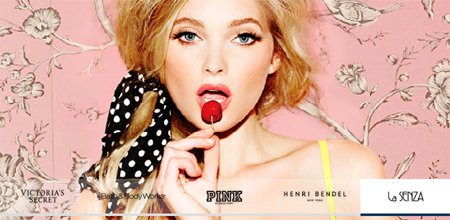 Victoria's Secret parent Limited Brands Inc blew past forecasts, helped by Valentine's Day sales. Its same-store sales rose 12 percent
The results confirmed consumer confidence data showing that the economy is on better footing despite the spike in gas prices.
February also got a boost from snowstorms in January that delayed some shopping trips, said Keith Jelinek, a director of consulting firm Alix Partners' retail practice.
But retailers should brace for challenges, he added.
"It will be difficult for retailers," Jelinek said, noting that the chains in March will face the double whammy of higher prices for clothing and gasoline that will probably prompt shoppers to cut back.
Retailers have had time to prepare for higher cotton prices, but gas prices have emerged as a more immediate threat.
Higher fuel prices will lead shoppers to consolidate trips, Jelinek said, meaning fewer impulse purchases, especially by lower-income shoppers.
"When you're pumping in $50 to $75 to fill up your car, or more depending on what you drive, it's a major hit for a lot of consumers," said Retail Metrics President Ken Perkins. "We're rapidly approaching that point."
Oil prices settled at their highest level since August 2008 on Wednesday.
Sahana Paramesh, who was shopping Wednesday afternoon at a Ross Stores Inc location in San Francisco, said higher gas prices were making her more careful with her spending.
"I used to buy at dressbarn - they had cute little dresses for 30 or 40 dollars, but I just found dresses here for half the price," she said. "I probably wouldn't have done that two years ago."
Energy, including gas and electricity, accounted for 5.6 percent of total consumer spending in 2010, according to the Commerce Department.
Several retailers said they were expecting sales declines in March because Easter is on April 24, three weeks later than last year. The weeks leading up to the holiday are when many shoppers start buying clothing for warmer weather.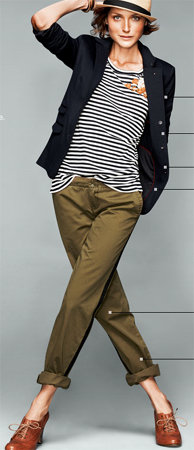 Gap Inc was one of the biggest losers
WINNERS AND LOSERS
February is the smallest sales month of the year, with retail sales in the month totaling only about 7 percent of annual figures.
Victoria's Secret parent Limited Brands Inc and upscale chains Saks Inc and Nordstrom Inc blew past forecasts, helped by Valentine's Day sales.
Saks shares rose 4.7 percent in early trading, while Nordstrom gained 1.7 percent.

Discount chain Target Corp and department store Dillard's Inc fell short.

The sales figures show shoppers remain focused on bargains. Many chains that cater to price-conscious shoppers, such as JC Penney Co Inc and Kohl's Corp, as well as low-priced retailers TJX Cos Inc and Ross Stores, which sell designer brands, reported strong results.

Limited Brands' same-store sales rose 12 percent, while Wet Seal reported an unexpected increase.

Gap Inc was one of the biggest losers, missing estimates as it continued to struggle with tepid shopper response to its merchandise, both domestically and abroad.

The Standard & Poor's Retail Index .RLX rose 0.7 percent on Thursday, lagging a 1.3 percent gain in the broader S&P 500 .SPX.




Teen apparel chains Abercrombie & Fitch, Aeropostale, and American Eagle Outfitters stopped reporting monthly sales, beginning in March. The world's largest retailer, Wal-Mart Stores Inc, has not been included since 2009.

(Additional reporting by Alexandria Sage in San Francisco, Jessica Wohl in Chicago, Dhanya Skariachan and Helen Chernikoff in New York, Ben Klayman in Detroit, and Nivedita Bhattacharjee in Bangalore.; Editing by Lisa Von Ahn)
© Thomson Reuters 2023 All rights reserved.