Soccer stakes rise as Nike presses on Adidas' turf
When Germany faced Portugal at the Euro 2012 soccer championship on Saturday, another battle was being played out between sponsors Nike Inc and Adidas AG for the top spot in selling gear for the world's most popular sport.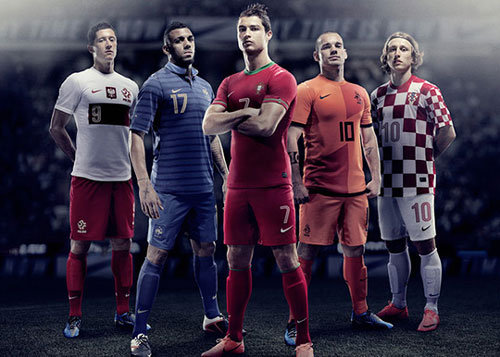 Photo: Nike
The Portuguese team's Nike-sponsored red jerseys, set against the white Adidas jerseys worn by Germany, underscore how much headway Nike has made against Adidas, once the dominant brand for all things soccer.
Adidas has been associated with soccer (called football outside North America) since the German company was founded in 1949. Nike, whose roots date back to the 1960s, did not enter the soccer business until 1994. Two years later, it scored an impressive goal when it signed Brazil's national team to a sponsorship deal.
"The Brazil deal gave presence and profile. It was also a signal of strategic intent," said Simon Chadwick, professor of sports business strategy and marketing at Coventry University Business School in Coventry, England.
Since then, the Beaverton, Oregon-based Nike has spent heavily on marketing. It also sponsors popular teams and players, including Portugal forward Cristiano Ronaldo. The most recent sponsorship battles between Adidas and Nike were fought over the German and French national soccer teams.
Adidas managed to keep its home team, but France was won over by the money Nike offered, which was reportedly north of 300 million euros. By comparison, Nike's deal with Brazil in 1996 was worth 100 million pounds.
As the top sportswear brand in the world, Nike has been investing in soccer to increase its international presence. Soccer has about 2 billion fans worldwide, followed by basketball with 1.2 billion, according to sports research consultancies REPUCOM and SPORT+MARKT.
Companies sponsor popular teams and players to market their products in the hope of influencing fans. Sporting events like the UEFA Euro 2012 can boost sales of soccer merchandise by about 5 percent, according to Morningstar analyst Paul Swinand.
Sales of soccer goods will top 4 billion euros in 2012, according to Peter Rohlmann at German consulting firm PR Marketing. He estimates Adidas' market share at 38 percent, with Nike closing in quickly at 36 percent.
HISTORY, PRESTIGE
Some experts say Adidas is defending not just its merchandise sales against Nike, but also trying to safeguard its history and prestige in the sports world.
"Nike is really making a concerted effort to grow in the international market. If you want to be an international player, you've got to have a strong soccer business," said Matt Powell, analyst for SportsOneSource, based in Charlotte, North Carolina.
"It is really hard to measure the dollar value of sales against these events. It is much more about branding and credibility," he added.
Adidas said it expects to sell more than 1.5 billion euros of soccer-related gear in 2012, helped by the Euro 2012 championship. Adidas stripes will be seen on six of the 16 teams taking part: reigning champions Spain, plus Ukraine, Denmark, Germany, Greece and Russia.
Nike, with annual sales of more than $20 billion, said it had $1.8 billion in sales from soccer in fiscal 2011. The Nike swoosh will be on five teams: Portugal, France, the Netherlands, Croatia and Poland.
Nike unit Umbro - a brand the company is planning to sell off - will outfit three teams: England, Sweden and Ireland. Puma has two teams: Italy and the Czech Republic.
FICKLE FANS
Experts say Adidas has an edge over Nike in Europe because of its partnerships with soccer governing body FIFA and popular clubs like Real Madrid or Bayern Munich.
"In European markets, there are still preconceptions that Adidas is historically associated with football and Nike isn't," said Chadwick, but he added: "Over the next 10 years, conceivably we will see Nike overtake Adidas."
Adidas football marketing manager Michael Kresser said last month the company aims to bring at least one product innovation to the soccer market each year. "We are market leaders and we will do everything to maintain that position," he said in an interview.
Nike has its plans in place as well. "There is a relentless drive for bringing in new products," said Charlie Brooks, Nike's communications director for football.
"Football is massively important. We made a strategic decision in 1994 that if we are going to be the world's leading sports brand, we need to lead in football," Brooks said.
Andreas Ullmann, head of market intelligence at SPORT+MARKT, expects about 7 million replica jerseys to be sold for Euro 2012, which alone guarantees retail sales of at least 500 million euros.
Nike has worked toward being a global brand that "has its finger on the pulse of football," Ullman said. Still, he noted that Adidas is an established rival and is often better-connected, making it difficult for Nike to overtake the German company.
"I don't think Nike can do anything in football other than what it is already doing, other than continuing to invest in it to keep building its equity and tell fans it's in it for a long term. It is not just about money, it is about passion for football," said Coventry Business School's Chadwick.
© Thomson Reuters 2023 All rights reserved.