Silver skull helps Theo Fennell regain sparkle
May 24 - Upmarket British jeweler Theo Fennell has seen business bounce back from a disappointing Christmas, helped by a new lower-priced range of silver jewelry, its founder said on Tuesday.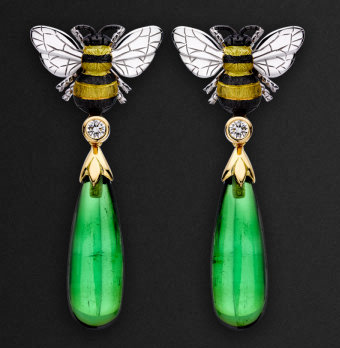 Green Tourmaline and Diamond Bee Drop Earrings by Theo Fennell for £4,950
Theo Fennell, who returned as creative director in June 2009, told the Reuters Global Luxury and Fashion Summit in London it had taken some time to rebuild a company that went into decline after he fell out with previous management.
The group issued a profit warning in January, blaming a drop in demand from international travelers as severe winter weather closed airports.
"We probably weren't as ready for Christmas as we should have been ... We were slightly under-dressed, especially for the cold," said Fennell, whose flamboyant jewelry has adorned celebrities from pop stars Elton John and Lady Gaga to models Liz Hurley and Naomi Campbell.
"Now we're way on from where we were four or five months ago ... We're really confident about what we're doing where we're going, and the new product," he said.
Dubbed "the King of Bling" by some newspapers, Fennell is best known for flamboyant designs -- from skull rings and diamond-studded crucifixes to solid silver Marmite lids and 18 carat gold nappy pins -- that became synonymous with the conspicuous consumption of the late 1990s.
Fennell thinks the moniker is unfair, however, and said that while his more outrageous designs tend to grab the headlines, his business has always been focused on taking classical pieces, like signet rings, and giving them a new twist.
This approach lies at the heart of Alias, a new range of lower-priced silver jewelry launched in November which has been key to a revival in its recent fortunes, he said.
The range was born in part out of necessity -- a surge in the price of gold which has put the price of highly-crafted products out of the reach of all but the wealthiest shoppers.
It was also in response to a subtle change in attitude of luxury customers as they returned to spending in force following a long and deep recession.
"It's come back (luxury spending) in a way that's slightly less brash than it was, slightly chastened by event," he said.
Fennell said Alias, whose prices begin at around 75 pounds ($121) and will stretch up to 2,000 pounds, will be introduced to international markets from next month.
The top-selling design so far has been a skull with snakes poking through the eyeholes, which appears on rings, pendants and earrings.
INDIVIDUALITY
Fennell, who founded the business in 1982 and left for a short period from 2008, said the mistake of previous management was to focus on expanding the brand in a way that lost sight of its focus on design, craftsmanship and individuality.
The Eton-educated son of a British army major insisted it was still possible to grow the business while retaining these traits, adding there was scope to take it into new product areas like pens and watches.
He also saw advantages in being part of a larger company that could fund its ambitions, and accepted that would involve a certain loss of control.
"I understand that even if it isn't a Faustian deal, one would be slightly less autonomous than we are now," he said, while stressing he was talking theoretically.
However, he warned luxury industry heavyweights they would destroy the value they seek from acquisitions if they just assimilate their purchases and stifle their individuality.
"It would be a foolish buyer, backer, partner who let the ethos we have established and let the design philosophy we have created go to waste."
Those traits could thrive, even after he leaves the business, Fennell said.
"It's in good hands. There's enough of an ethos there, there's enough people who understand it," he said.
By Mark Potter
Editing by Erica Billingham
© Thomson Reuters 2023 All rights reserved.