Si Lolita, the new women's fragrance from Lolita Lempicka
Lolita Lempicka is releasing a new fragrance called Si Lolita (So Lolita) at the end of the summer season with a bottle in the shape of a four leaf clover.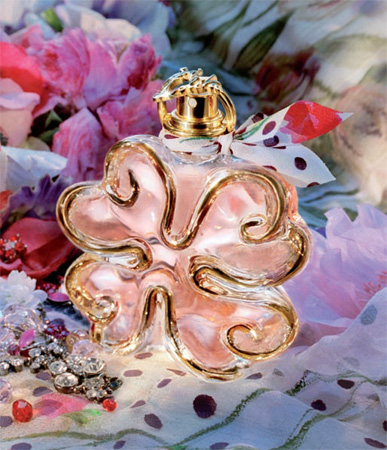 Si Lolita
True to her tradition of creating bottles which are precious objects in their own right, Lolita Lempicka has chosen a four leaf clover, highlighted with golden lines. "For happiness, for chic, but also for dreams and flowers," stated the designer. Another tiny detail features too, the neck of the spray is dressed in a polka-dotted silk neckerchief, because the designer likes its style.
Inside, the perfume, created by Christine Nagel and Benoist Lapouza, plays with both freshness and spice. First, pink berries sharpen a citrus freshness (bergamot, mandarin), followed by clove spices which punctuate the scent of heliotrope. Finally, there are tones of amber, patchouli and tonka beans.
Coming soon, Si Lolita will be available as a spray perfume in 30ml, 50ml and 80ml bottles. Si Lolita follows 'Fleur Défendue' and 'Fleur de Corail', which were both released in 2008, and 'L' which came out in 2006. Lolita Lempicka released an eponymous perfume in 1997, which was her first perfume and which saw great success, staying amongst the bestsellers of perfumes over the course of the next ten years.
By Jonathan Fulwell (Source: C. Vautard)
Copyright © 2021 FashionNetwork.com All rights reserved.