Shopping spree over for Fast Retailing stock?
By Taiga Uranaka
TOKYO, Dec 17 (Reuters) - Japan's Fast Retailing (9983.T) thrives on economic hardship, with thrifty shoppers flocking to its budget fashion chain Uniqlo, while supermarkets and department stores struggle to reverse sharp falls in sales.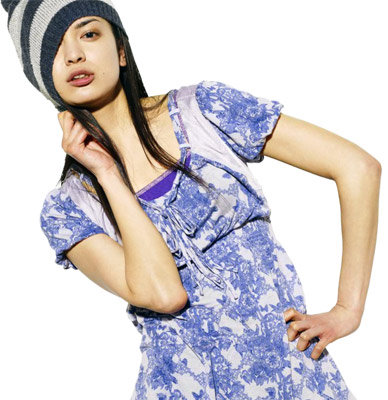 Uniqlo spring-summer 2009
After logging a hefty 11.3 percent growth in same-store sales for the year ended in August, Uniqlo surprised the market by booking year-on-year increases of more than 30 percent in September and October.
From a recent low in early September, Fast Retailing shares have gained more than 50 percent. During the same period, the benchmark Nikkei average .N225 lost 0.5 percent and the Tokyo Stock Exchange's retail subindex .IRETL.T shed 9 percent.
While most market players agree on Fast Retailing's solid growth prospects -- with many fund managers interviewed saying they shop at Uniqlo and like its products -- differing views have emerged on the performance of its stock.
UNIQLO BOOM OVER?
"I cannot be bullish on Fast Retailing's stock," said Seiichiro Iwamoto, senior fund manager at Mizuho Asset Management.
"At a PER (price-to-earnings ratio) of 26, the stock price is expensive even considering next year's growth," he said, adding that investors are likely to shift money to exporters and relatively cheaper shares of other retailers.
Fast Retailing shares are trading about 23.5 times its per-share earnings forecast for the year to August 2010, compared with 16.2 times for Japan's largest retailer, Seven & I (3382.T), and 15.3 times for Japan's largest department store chain, Isetan Mitsukoshi (3099.T), according to Thomson Reuters I/B/E/S.
Paul Chesson, head of Japanese equities at Invesco Perpetual, said shares of automakers and other manufacturers were more attractive than those of Fast Retailing.
"While I am not arguing that Fast Retailing in absolute terms is particularly expensive, I think the growth offered by, for example, the Japanese car companies on the global stage is far more exciting in the medium- to long-term," he said.
Fast Retailing is trading on a price-to-book ratio of about six, while Japan' top three automakers are all trading close to their theoretical break-up value.
"This is not a matter of valuation but one of momentum, I mean momentum of same-store sales growth," said Shigeo Sugawara, senior investment manager at Sompo Japan Asset Management.
He said the company is facing ever harder hurdles to post year-on-year same-store sales growth given its hefty results so far.
"Past experience shows the rally in speciality retailers ends when momentum in their same-store sales growth hits a peak," he said.
SEES MORE GROWTH
Fujio Ando, senior managing director at Chibagin Asset Management, said he thinks Fast Retailing's stock has more room to rise, given the company's strong growth potential.
"I think there is still room for the stock to grow. At this level, I don't see it as expensive," he said.
The chain has been on a roll with hit products like its "Heattech" line of basic garments made of heat-trapping fabrics and camisoles with built-in bras.
"There are views that it has already hit its peak in the short term, I think the stock will be on the rise again in the next quarter," he said, citing the firm's overseas business as one of its strong growth drivers.
Globally, budget fashion retailers like Swedish H&M (HMb.ST) and Inditex's (ITX.MC) Zara of Spain have been weathering economic downturn better than other retailers, but Uniqlo has been faring even better than some of these peers.
Yoshihiro Ito, senior strategist at Osakan Asset Management, said the recent surge in Fast Retailing shares was partly due to benchmark index-related trades, given the stock's heavy weighting on the Nikkei average.
Such trades helped push the stock above 18,000 yen in November, he said, adding that unwinding of these trades was behind the stock's recent fall.
"But around 15,000 yen, I don't see the stock as expensive. Given its growth potential, it's a chance to buy on dips," he said. (Additional reporting by Nathan Layne; Editing by Lincoln Feast)
© Thomson Reuters 2023 All rights reserved.