Shirtmaker designs tie for your iPod
SYDNEY (Reuters Life!) - For bored commuters with already bulging pockets, a shirt design company has come up with the perfect solution to keep them entertained on the trip to work - a commuter tie with a hidden iPod storage pocket.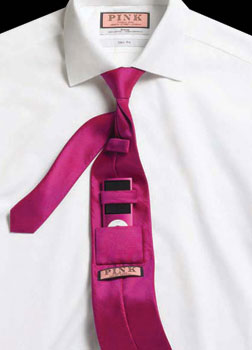 Photo: www.thomaspink.com
Thomas Pink, the British shirt brand, is introducing the Commuter Tie as part of its main line for the autumn and winter 2009/2010 with the silk tie featuring a small pocket on the reverse designed to hold an iPod nano or mp3 player.
"The music player is placed in the pocket to avoid having expensive devices on display or damaging the line of one's suit," the company said in a statement.
An extra fabric loop keeps wires, including headphone wires, out of sight and close to the body.
Thomas Pink, which has its flagship store on Jermyn Street, London, is owned by luxury goods group LVMH and has more than 80 boutiques and concessions in Europe, the United States and Asia.
(Reporting by Belinda Goldsmith, Editing by Miral Fahmy)
© Thomson Reuters 2022 All rights reserved.