Self-help key in picking retail winners
By James Davey - Analysis
LONDON (Reuters) - The nation's retailers face the prospect of no underlying sales growth this year, so those with restructuring already under their belts are likely to be among the outperformers.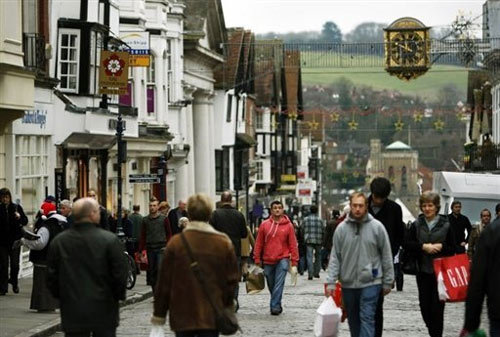 Photo: AFP
Underlying sales growth will be hard to achieve in 2010 with real incomes being squeezed by pay freezes, rising inflation, further unemployment and likely tax rises and spending cuts after a general election that must be held by June.
"We see that consumer discretionary cash flow growth will be negatively affected... In this context, we would prefer self-help restructuring stories," said Luca Solca, analyst at Bernstein.
The strategies being pursued by Europe's largest home improvements group Kingfisher, newspaper, books and stationery retailer WH Smith, and car-parts-to-bicycles retailer Halfords may fit the bill for those looking to pick retail winners.
"The advantage of those three is that they are in less volatile market places ... You're not up against the vagaries of fashion," said Paul Mumford, senior fund manager at Cavendish Asset Management.
Although Halfords and Kingfisher have outperformed the UK general retailers index over the last year, all three stocks currently trade at a multiple of forecast earnings below the general retail sector average of 15.1 times, according to Thomson Reuters data.
Over the last year Kingfisher has repeatedly raised profit forecasts with a series of cost cuts and business improvement measures, yet it trades on a forecast PE of 12.8 times.
For 2010, Chief Executive Ian Cheshire has forecast flat sales at the firm's market-leading chain B&Q.
However, he expects to offset this with market share gains and enhanced profit margins as he adds new ranges, revamps stores, and improves sourcing on a group-wide basis.
"Double-digit (earnings) growth, heavy asset backing and modest gearing should demand a premium, not a discount. UK macro risk can be navigated and self-help initiatives have much further to run," said Geoff Lowery, analyst at Redburn Partners.
GOOD COMBINATION
The strategy being pursued by WH Smith, which trades on a forecast price/earnings (PE) ratio of 10.8, crucially combines defensive and growth characteristics.
CEO Kate Swann has cut costs and improved gross margins by focussing on more profitable products, better sourcing and better control of markdowns, rather than driving sales.
She has successfully re-balanced WH Smith's mix of products towards core categories and away from lower-margin entertainment products -- CDs, DVDs, computer games and consoles.
Swann has also developed a fast-growing travel division -- outlets at airports, train stations, hospitals, motorway service stations and work places, a move which could ultimately end in a value-enhancing demerger from the mature high-street operation.
"WH Smith has been a relative outperformer in the sector over the last month and three-month periods. We would expect this to continue given the more defensive characteristics of a retailer where the average transaction value is around 5 pounds," said Investec Securities analyst David Jeary.
Halfords has fared better than many retailers in the recession as demand for car parts and maintenance services has remained relatively stable, but it trades on a forecast PE of just 9.9 times.
CEO David Wild has tapped into the trend for cash-strapped customers to holiday more in the UK, with market share gains in bicycles and record sales of camping equipment compensating for falling sales of satellite navigation products.
As independent players continue to withdraw from Halfords' markets, the firm looks well-positioned, thanks to further opportunities for cost savings and better gross margins, and strong cash generation.
"We believe the foundations are in place for Halfords to continue its strong track record of profit growth despite the uncertain consumer environment in 2010," said Kate Calvert, analyst at Shore Capital.
According to Thomson Reuters data of those analysts that cover Halfords, 71 percent rate the stock a buy, while for WH Smith and Kingfisher the figure is just under 60 percent, suggesting the window of opportunity for investors to take advantage of their relative price discrepancy may be short.
The danger of putting off required restructuring is illustrated by one-time investor darling Marks & Spencer, the country's biggest clothing retailer.
Six years after Stuart Rose became CEO some analysts believe nearly all aspects of the company still require major modernisation, work that may need to be done by his successor, former Wm Morrison Supermarkets boss Marc Bolland.
Over the last year M&S underperformed the wider sector, with its shares rising 25 percent compared with gains of 29-41 percent in Kingfisher, WH Smith and Halfords, yet it still trades at a premium to two of those three companies.
(Editing by Sitaraman Shankar)
© Thomson Reuters 2023 All rights reserved.