Saudi billionaire to build world's tallest tower
Tue Aug 2, 2011 - JEDDAH, Aug 2 (Reuters) - Saudi billionaire Prince Alwaleed bin Talal unveiled plans on Tuesday to build the world's tallest tower in the Red Sea port city of Jeddah, signing a 4.6 billion riyal ($1.23 billion) contract with Bin Laden Group.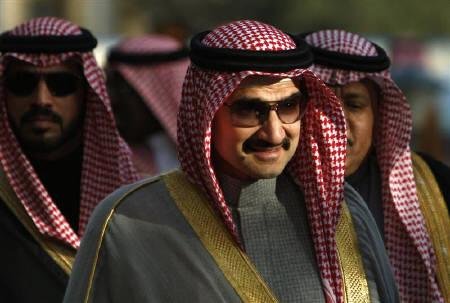 Prince Alwaleed bin Talal
The proposed tower, which will rise more than 1,000 metres and take just over five years to complete, is the centrepiece of the planned Kingdom City development being built outside Jeddah by Prince Alwaleed's Kingdom Holding .
"Building this tower in Jeddah sends a financial and economic message that should not be ignored," Prince Alwaleed told reporters. "It has a political depth to it to tell the world that we Saudis invest in our country."
If completed, the tower will replace Dubai's 828-metre Burj Khalifa as the tallest tower in the world. The Burj Khalifa was built by Emaar Properties for a total cost of $1.5 billion.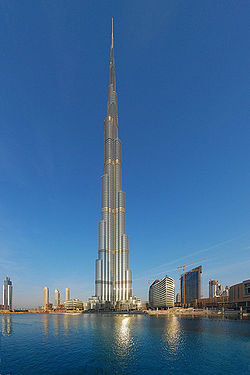 Currently the world's tallest buliding, Burj Khalifa, topping at 828 metres (2,716 ft)
The tower, which is to include a hotel, serviced apartments, luxury condominiums and offices, will be designed by U.S. architecture firm Adrian Smith + Gordon Gill.
Prince Alwaleed, a nephew of Saudi King Abdullah, said the Jeddah tower would eventually top 1,000 metres, but the final height is a closely guarded secret.
Kingdom Holding shares were up 1.91 percent on the Saudi bourse at 1032 GMT.
Kingdom said a 33.35-percent-owned associate firm, Jeddah Economic Co, had been set up to build the tower. Abrar International Holding Co. will also have a 33.35-percent stake, while Bin Laden Group will have 16.63 percent, and businessman Abdurrahman Sharbatly will own 16.67 percent.
Last month, Kingdom, which holds stakes in companies such as Citigroup , reported a 21-percent rise in second-quarter net profit helped by higher income from its investments. (Reporting by Dinesh Nair; Editing by Amran Abocar and Will Waterman)
By Asma Alsharif
© Thomson Reuters 2023 All rights reserved.