Sacha Baron Cohen's "Bruno" is "pushin' der limits"
LOS ANGELES, May 8 (Reuters) - Thought Sacha Baron Cohen couldn't get any more outrageous?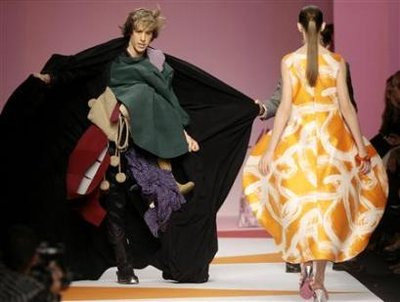 Sacha Baron Cohen as Bruno on the catwalk of Agatha Ruiz for Prada
Photo : Alessandro Garofalo/Reuters
Think again. The British actor debuted a video excerpt on Friday from his new mockumentary style movie "Bruno" featuring a gay, Austrian fashionista alter-ego to rival his 2006 over-sexed Kazakh TV reporter Borat.
The video, on MySpace Movies and Bruno's "Meinspace" page (www.meinspace.com/bruno), shows the flamboyant, blonde Bruno crashing the Milan fashion show.
His spoof "Meinspace" page tells potential friends that he "vas ze first Austrian to have bulimia", that his staple food is Tampax ("zey really fill you up" and have zero calories) and that he is looking to have "one guyfriend of every single skin tone."
Or, as he clarifies, "Ich bin pushin' der limits!"
"Bruno", which opens in the United States on July 10, is Cohen's big screen follow up to "Borat: Cultural Learnings of America for Make Benefit Glorious Nation of Kazakhstan" which grossed a glorious $261 million at the global box office and triggered a slew of lawsuits from unwitting victims.
Among those duped by Cohen in the new movie are "American Idol" judge Paula Abdul -- interviewed while sitting on a Mexican gardener -- and Republican congressman Ron Paul of Texas, who Bruno reportedly attempted to seduce.
The original "Bruno" subtitle -- "Delicious Journeys Through America for the Purpose of Making Heterosexual Males Visibly Uncomfortable in the Presence of a Gay Foreigner" -- appears to have been dropped. (Reporting by Jill Serjeant, editing by Dan Whitcomb)
© Thomson Reuters 2023 All rights reserved.