S.Korean retailers: How long can they outperform?
SEOUL, Sept 20 (Reuters) - Shares in South Korea's top retailers -- Lotte Shopping (023530.KS) and Shinsegae (004170.KS) -- have scaled new highs as the companies ride a wave of robust consumer purchases both at home and overseas.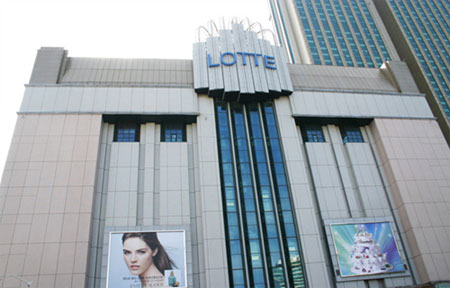 Lotte Department Store, S.Korea
The firms are set to report higher profits this year on strong sales at their upscale department stores as consumers' appetite for high-end goods in Asia's fourth-largest economy grows, helped by an economic upturn.
On the downside, however, retail stocks have already risen sharply and their earnings growth momentum may slow down.
MORE REASONS TO BUY
Shares in Lotte, the country's biggest retailer, have risen 26 percent so far this year and second-ranked Shinsegae is up 13 percent, easily beating a 9 percent gain in the broader market .KS11.
"Our economy is doing better than developed economies. South Korea's job market has improved and this has translated into more robust consumer spending," said Cha Kyung-jin, a fund manager at Golden Bridge Asset Management. He declined to say if the fund owned retail shares.
In July, South Korea added the most number of private sector jobs in eight years, while household spending on consumer goods in the second quarter also grew nearly 7 percent, government data showed.
Retailers' successful expansion into China and a sharp increase in the number of tourists are also a positive.
Samsung Securities forecasts sales from Lotte's Chinese discount store operations to top 1.6 trillion won in fiscal 2010 after it acquired Chinese retailer Times late last year for $600 million.
The number of Chinese tourists to South Korea jumped 82 percent in July from a year ago, according to Korea Tourism Organisation.
Of 41 brokers tracked by Thomson Reuters' StarMine, 31 rate Lotte a 'strong buy' or 'buy, while 10 have a hold.
Based on StarMine's Analyst Revisions Model, a measure of change in analyst sentiment, Lotte has a score of 94. This places it in the top percentile in the multiline retail sector in Asia, which has an average ranking of 60.
RICH VALUATIONS
Lotte trades at around 15 times estimated 2010 earnings, above the broader market's roughly 9 times valuation.
"I see a correctional period ahead. Profit-taking pressure is inevitable given the scope of their latest gains," said Kim Young-chan, a fund manager at Shinhan BNP Paribas Asset Management.
On a technical measure, Lotte is also moving into overbought territory. The firm's 30-day relative strength index (RSI) is at 60, near overbought territory. Shinsegae is at about 55.
Investors also worry department store sales may have started losing steam. The pace of sales growth at South Korea's top three department store chains slowed in August from a year ago.
Retailers will find it hard to surpass the strong set of fourth quarter numbers seen in 2009, when Lotte posted double-digit operating profit growth, analysts said.
"This is a good excuse for profit-taking," Lee Sang-gu, an analyst at Hyundai Securities.
(Editing by Anshuman Daga)
© Thomson Reuters 2023 All rights reserved.