S.Korea Shinsegae to split business, shares suspended
Feb 15 - Shinsegae Co Ltd, South Korea's No.2 retailer, said on Tuesday it planned to split into two entities, separating its department and discount chain businesses.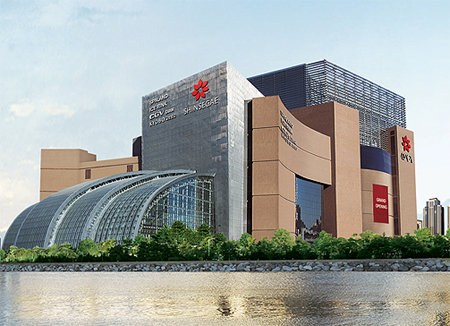 Shinsegae store in Centum City, Busan, South Korea
The split, expected in May pending shareholder approval at a March 18 meeting, will separate the company into department store operator Shinsegae and discount chain E-Mart.
Shinsegae will trade under the same name and stock code in the Seoul stock market, and E-Mart will be listed under a new name in June, the company said.
Investors will receive 0.261 Shinsegae shares and 0.739 E-Mart shares for each existing Shinsegae share they own.
The split will allow Shinsegae's department store and discount retail operations "to better focus on their business," a Shinsegae spokesman said.
"Previously, they were more or less co-dependent on each other. But Shinsegae and E-Mart have grown both in terms of scale and competitiveness. They are strong on their own," he said.
Shinsegae will operate upscale department stores, outlets, and importing operations.
Discount retail chain E-Mart, a food and beverage portfolio including Starbucks' South Korea operations, and a hotel chain will be included under E-Mart's operations.
Shares in Shinsegae were suspended from 0627 GMT, after the closing bell, and will resume trading at the market open on Wednesday.
(Reporting by Jungyoun Park; Editing by Jonathan Hopfner)
© Thomson Reuters 2022 All rights reserved.