S.Korea April department store sales rise again
SEOUL, May 15 2009 - Sales at top South Korean department stores rose again in April, adding to a batch of domestic data spurring hopes of an early recovery for Asia's fourth-largest economy.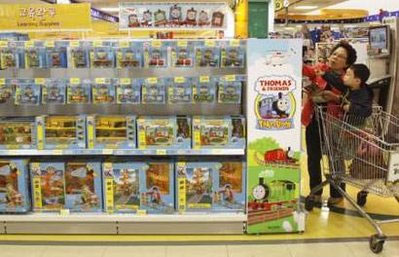 Shoppers in Seoul, South Korea - Photo: REUTERS/Lee Jae-Won
Combined sales at the three top department store operators -- Lotte Shopping Co Ltd (023530.KS), Shinsegae Co Ltd (004170.KS) and Hyundai Department Store Co Ltd (069960.KS) -- increased 2.8 percent in April over a year earlier, data from the Ministry of Knowledge Economy showed.
That compares with a 4.5 percent gain in March and a 5.2 percent rise for the previous two months, which was a major turnaround from the largest fall in two years suffered in December.
"We can say domestic consumption has been improving, though slowly, but it's hard to call it a recovery until durable goods sales start picking up," said Kim Jung-young, assistant director at the economy ministry.
Durable goods sales in major department stores dropped 11.6 percent in April from a year ago.
The ministry also said sales at the country's major discount stores rose 0.1 percent in April from a year earlier, rebounding from a 0.8 percent fall in March and a 2.4 pct drop for the January-February period.
Analysts prefer to use the combined January-February data to remove the effect of the Lunar New Year holiday, which fell in January this year. (Reporting by Seo Eun-kyung; Editing by Jonathan Hopfner)
© Thomson Reuters 2023 All rights reserved.