Retailers may not rebound until 2010
By Nicole Maestri
NEW YORK (Reuters) - Many U.S. retailers may be ready to forget the recession they endured in 2008, but they are not likely to want to remember 2009 either.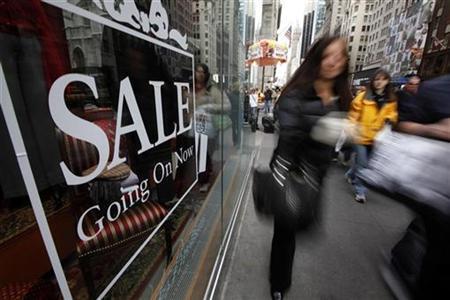 With the recession showing no sign of abating, market research firm TNS Retail Forward said on Thursday it expects retail sales to remain weak through 2009, with no clear rebound until 2010.
Separately, Barclays Capital predicted that housing market pressure, tighter credit and a greater propensity among consumers to save will weigh on retail spending until at least the second half of 2009.
"The near-term earnings backdrop could favor discounters and dollar stores (which are somewhat counter cyclical) as well as defensive quickservice, supermarket and drug retailers," Barclays said in its 2009 Retail Sector Outlook.
"Cyclical stocks could outperform in anticipation of an economic recovery, but we continue to recommend caution as we expect high volatility throughout the year."
The cautious forecasts come as retailers struggle through what could be the weakest U.S. holiday shopping season in nearly two decades. Consumers are slamming the brakes on spending as they grapple with falling home values, decreased access to credit, and rising unemployment.
Many retailers have reported sharp drops in sales, while others, including department store operator Mervyns and electronics retailer Circuit City Stores Inc , have filed for bankruptcy.
TNS said that for 2009, retail sales growth, excluding automobiles and gasoline sales, is expected to approach 2 percent, down from the 2.3 percent average growth this year through November. It expects a rebound to occur in 2010 and gain momentum through 2013.
Barclays expects retail sales to grow at a 3.3 percent rate in 2009, down from 6 percent growth in 2008.
TRUST IN WAL-MART, KOHL'S
Barclays recommends investing in "best in class" retailers that are poised to take market share and outperform competitors, such as Wal-Mart Stores Inc , Kohl's Corp , J.C. Penney Co Inc , Nike Inc , Coach Inc VF Corp and Phillips-Van Heusen Corp .
It expects Tiffany & Co to emerge from the recession "leaner, with its strong brand very much intact, and in a position to benefit from the elimination of many independent jewelers."
TNS said retailers specializing in sales of food, drugs or discount items will be the least affected by the sales slowdown, with warehouse clubs and supercenters generating the strongest sales growth.
Warehouse clubs include Costco Wholesale Corp and BJ's Wholesale Club Inc , while Wal-Mart operates a number of supercenters, which combine a discount store with a full grocery store.
TNS said so-called "softgoods retailers," which include apparel, accessory and shoe stores, as well as department store operators, are expected to see a decline in sales in 2009 before mounting a strong recovery in 2010.
(Reporting by Nicole Maestri; editing by Jeffrey Benkoe)
© Thomson Reuters 2022 All rights reserved.