Retailers do well by going cheap in Japan
Japan is back in deflation, and price falls look like gathering pace as shoppers' bargain-hunting leads stores to cut prices further to weather the worst retail slump in decades.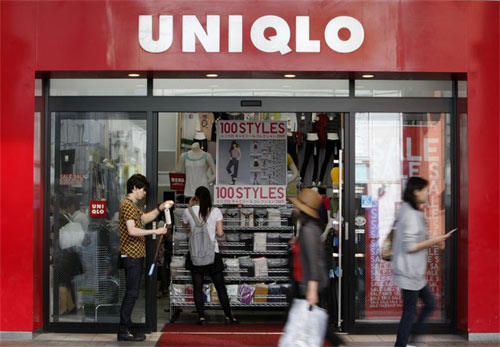 Uniqlo, a Fast Retailing company
Retailers large and small reported hard falls in quarterly profits last week, and the few bright spots were focused on those drawing in thrifty shoppers with their cheap but well-made goods.
Fast Retailing tops the list, as its Uniqlo stores thrive in tough times by selling T-shirts for $10 — that's cheap here — and other clothing at similar bargain prices. The company is also seeing strong sales growth at its other basic apparel chain g.u.
g.u., the cut-rate sibling of already-cheap Uniqlo, had a low profile for years but shoppers started flooding in after it slashed prices across the board and started flogging $11 jeans and $5 T-shirts this year.
Shoe retailer ABC Mart, which also saw solid growth in its quarterly profits, said its sales of heeled sneakers jumped three-fold after it lopped almost 50 percent off the price-tag back in spring.
Even convenience stores, which had been thought to be pretty well immune to price competition, are starting to cut prices. Seven-Eleven, Japan's largest chain, has marked down some household items like shampoo recently.
The trend is likely to intensify.
Japan's second-largest retailer, Aeon Co Ltd, said it planned more markdowns to plug a hole in its sales. The operator of Jusco supermarkets is one of the most aggressive in expanding cheap in-house brands and marking down national brands.
This is deflation in action. The stores hope that by dangling cheap price tags, they will raise their total sales as customers flood in and buy more items each. This puts added pressure on suppliers like food makers and household goods companies, already pushed hard by retailers to bring down their prices. And then shoppers hold back spending in the hope of even cheaper prices.
All this gives the central bank and the government major headaches as they try to break the downward spiral in prices that has dire consequences for businesses, employment and the economy as a whole.
They've got their work cut out though, and some retailers aren't that sympathetic.
An executive at one major retaling group told me he didn't think his firm's demand for further price cuts would hurt its suppliers.
"Look at how much profit they make," he said rather grudgingly.
By Taiga Uranaka
© Thomson Reuters 2022 All rights reserved.