Retail stocks up after strong holiday weekend
After a blockbuster performance over the long Thanksgiving weekend, U.S. retailers now must replicate the robust results in order to see profitable sales gains for the rest of the holiday season.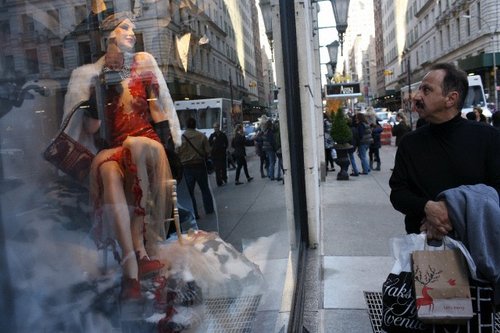 Black Friday Shoppers in New York / Photo: Corbis
Record numbers of shoppers spent billions of dollars in stores and online over the weekend on discounted televisions, toys and other goods. Stores opening earlier than ever, the usual deep discounts and more free shipping offers helped millions of shoppers shrug off economic concerns.
Best Buy Co Inc (BBY.N), Macy's Inc (M.N) and Wal-Mart Stores Inc (WMT.N) were seen by some analysts as strong performers over the big weekend. Best Buy and Macy's shares rose in premarket trading while Wal-Mart shares were flat.
Nice weather across much of the country also helped. It was the warmest Black Friday weekend in five years, with the least snowfall since 1999. In terms of rainfall, it was the driest Black Friday in five years, according to Planalytics.
"Favorable weather may have pulled spending forward while also shifting the mix of sales from online to stores," said Credit Suisse analyst Gary Balter.
On Monday, the spotlight shines on online sales. "Cyber Monday" is the biggest online shopping day of the year. Based on the growth seen over the weekend, it is expected to be another banner year online. On Black Friday itself, U.S. online retail sales jumped 26 percent, comScore data showed.
Overall, Thanksgiving weekend sales soared 16.4 percent to $52.4 billion, the National Retail Federation, an industry trade group, said on Sunday.
Investors will get a more detailed reading of results later this week, when some chains including Costco Wholesale Corp (COST.O), Macy's and Target Corp (TGT.N) issue their monthly sales tallies.
"I presume we're going to see strong numbers for November," said Sterne, Agee & Leach analyst Kenneth Stumphauzer.
Brian Sozzi, an independent analyst who follows retail stocks, said he expects many of those stocks to trade higher on Monday, but warned that discounts could come at a price for retailers.
"You have to remember that these were promotionally driven sales and there are still some margin issues," he said.
Wal-Mart was one of the clear winners, he said, along with Best Buy and even Wal-Mart rival Target.
"It's not an all Wal-Mart kind of world," Sozzi said.
Analysts cautioned that there could be a prolonged lull in sales until closer to Christmas.
Sozzi said he was looking beyond chains to other companies that likely benefited from retailers' sales, such as underwear and T-shirt maker Hanesbrands Inc (HBI.N).
"If Wal-Mart had such a strong performance in basic apparel ... you look at something like a Hanesbrands."
Black Friday deals are meticulously planned for months, but extended discounts were found across a wide range of apparel chains, which may suggest that early sales were coming in below plan, said Janney Capital Markets analyst Adrienne Tennant.
Chains such as Aeropostale (ARO.N), Gap Inc's (GPS.N) Banana Republic, bebe (BEBE.O), Charlotte Russe, Children's Place (PLCE.O), New York & Co (NWY.N), Pacific Sunwear (PSUN.O) and Chico's FAS Inc's (CHS.N) White House Black Market pushed their early deals throughout Friday, Tennant said.
At 9:30 a.m. on Friday, the Aeropostale store at Pennsylvania's big King of Prussia mall gave out makeshift coupons on paper, extending a 1:00 p.m. deadline for an additional 20 percent off to 5:00 p.m., and then that deadline was extended for the remainder of the day, Tennant noted.
Home Depot Inc (HD.N) may have had the upper hand among home improvement chains, as Balter noticed people shopping across the store, while at Lowe's Cos Inc (LOW.N) they appeared to concentrate on the doorbusters such as $99 drills.
Both Home Depot and Lowe's shares moved higher in premarket trade.
The NRF expects sales for the November-December holiday shopping season to rise 2.8 percent, slower than the 5.2 percent jump seen in 2010 and roughly in line with the average growth of 2.6 percent seen over the past decade.
(Reporting by Jessica Wohl and Brad Dorfman in Chicago, with reporting by Phil Wahba in New York; editing by John Wallace)
© Thomson Reuters 2023 All rights reserved.