Retail sales fall 0.8 percent year-on-year
LONDON (Reuters) - Retail sales fell in May, as stores struggled to match strong gains booked last year, a survey by the British Retail Consortium showed on Tuesday 9 June.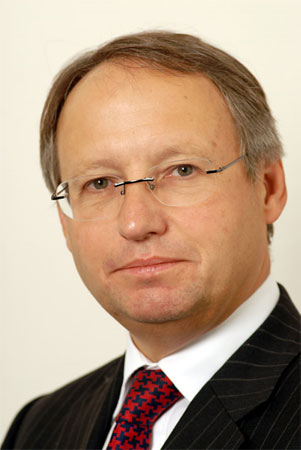 Stephen Robertson, Director General of the British Retail Consortium
The BRC said like-for-like sales fell 0.8 percent in May compared with a year ago, while total sales, which include new floorspace, rose 0.8 percent.
That came after April's Easter-related rise in like-for-like sales of of 4.6 percent on the year -- the strongest gain in three years -- and a total sales increase of 6.3 percent.
The BRC said last month's weaker turnout was partly due to base effects from strong gains in May 2008.
"This May was always going to be difficult because the comparison is with strong May sales last year, which delivered some of 2008's best growth figures," said BRC Director General Stephen Robertson.
Like-for-like sales had risen 1.9 percent year-on-year in May 2008, taking total sales up 4.6 percent on the year.
May can be a busy month for retailers as two public holidays during the period mean people have more time to go shopping.
But with Britain suffering its deepest downturn in three decades and unemployment soaring, people are not so keen to splash out even though some may have more spare cash because big interest rate cuts have reduced monthly mortgage repayments.
Clothing sales were lower than a year ago, and footwear sales fell at their sharpest rate in a year, the BRC said.
The weak housing market has also depressed sales of goods associated with moving house, such as furniture and electrical goods, although home improvement stores have benefited as people who are forced to stay put choose to redecorate instead.
"Extremely challenging market conditions -- particularly for non-food sectors -- continue," said Helen Dickinson, head of retail at consultancy KPMG, which sponsors the survey.
"It remains to be seen when those who have cash to spare will feel confident to start spending again."
© Thomson Reuters 2023 All rights reserved.