Retail rent on Manhattan's Fifth Avenue soars
NEW YORK - The price for staking ground on Manhattan's Fifth Avenue jumped 22 percent in the past year, spurred by a record number of tourists spending their dollars at top U.S. and international retailers on America's most coveted shopping ground.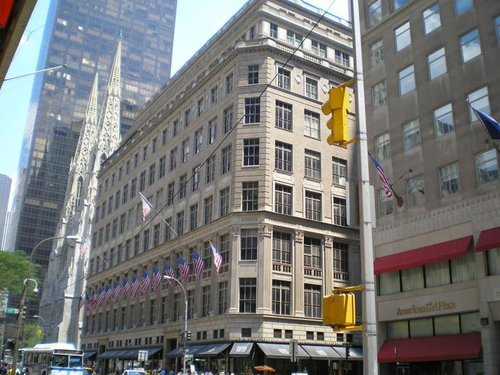 Fifth Avenue in Manhattan / Photo: David Shankbone
The asking rent for street-level stores on Fifth Avenue between 50th and 59th streets rose to $2,750 per square foot this spring, the Real Estate Board of New York said in a report released Friday.
The stretch is home to world-famous stores including the flagships of Saks Inc and Tiffany & Co, as well as Bergdorf Goodman and a top-grossing Apple Inc store instantly recognizable for its large glass cube entrance near Central Park.
It has also attracted foreign retailers, notably Fast Retailing Co Ltd's Uniqlo and Inditex's Zara which in the last year have each opened flagships on Fifth Avenue.
"What's pushing Fifth Avenue is basically the tourism. All international brands want to be represented there," said C. Bradley Mendelson, executive vice president of real estate services company Cushman & Wakefield.
Stores on the stretch have benefited from the constant stream of international shoppers who crowd the sidewalks.
According to New York City statistics, a record 50.6 million visitors came to the city last year, up 43.8 percent since 2001.
That influx has been a boon for chains like Saks, which derives 20 percent of sales from the flagship.
The stores not only attract tourists to spend their money there. These locations also serve as giant forms of advertising to remind tourists to shop at the chain when they are home.
"There's no other shopping street like it in the world," said CBRE Group Inc retail broker Andrew Goldberg.
The soaring store rents have helped offset office rents still recovering from the downturn following the credit crisis. Landlords along the strip include large real estate investment trusts such as Vornado Realty Trust and Boston Properties Inc.
Despite the impressive jump in asking rent, the price that tenants actually pay often ends up lower after factoring in months of free rent and other concessions.
Asking rents were up in other popular shopping districts in Manhattan.
On Madison Avenue between 57th and 72nd streets, home to stores such as Barneys, Hermès and the Ralph Lauren mansion, asking rents hit $1,203 per square foot in the spring, up 31 percent from a year earlier. In the trendy Meatpacking District in the West Village, average asking rents hit $373 psf.
Asking rent overall for Manhattan retail space, on the ground and above, was $114 per square foot, down 1 percent from a year earlier.
© Thomson Reuters 2023 All rights reserved.