Retail numbers show path slow to economic growth
(Reuters) - Pinks and reds may be the big colors for the fall, but retail executives are seeing only gray skies ahead.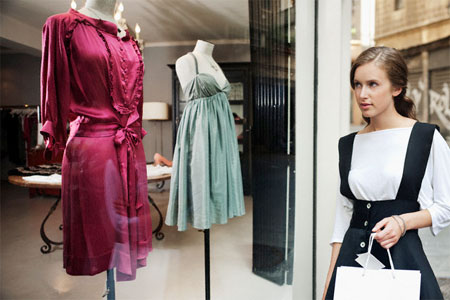 Photo : Corbis
U.S. shoppers are still spending cautiously, several top retailers said in the past two weeks as they reported quarterly earnings, giving weight to the idea that economic recovery would remain weak beyond 2010.
This reluctance to shop would also slow growth in retail earnings heading into the crucial holiday season and leave investors with few attractive options in retail stocks, analysts said.
"The economic backdrop is not optimal," said Ken Perkins, president of retail research firm Retail Metrics. "It's not catastrophic like it was in 2008 and the first quarter of 2009, but it's just very sluggish."
Wal-Mart Stores (WMT.N) posted its fifth consecutive quarterly drop in U.S. same-store sales on Tuesday and said that trend might not reverse itself in the current quarter, while Home Depot (HD.N) cut its full-year sales view.
Both companies, however, raised their profit forecasts for the year, projecting confidence they could manage their business as the economy struggles to quicken its pace of recovery.
But department store chains like Kohl's (KSS.N) that cater to middle-income consumers cut their profit forecasts. Kohl's projected lower sales through the end of the year.
Part of the problem is that having slashed inventories, stores and jobs during the recession, retailers now have fewer opportunities to cut costs when sales are slow.
"I don't know how many places you could cut and still have the right shopping experience," said Patty Edwards, founder of wealth management firm Storehouse Partners.
Defensive retail measures such as job cuts have also fed back into the cycle of waning consumer sentiment, as they contribute to high U.S. unemployment.
"Everybody is being forced to be more productive right now," Wal-Mart Stores Inc's (WMT.N) Chief Financial Officer Tom Schoewe said during a conference call. "That's placing additional pressure on unemployment."
TURNING TO THEFT
Costs are also starting to creep back up in the form of higher prices for freight, cotton and other commodities. That leaves retailers with only one option -- outright theft.
"You're going to have to steal from your competitors," Edwards said, adding that merchants would have to find a way to hold onto their customers and attract customers away from other stores.
TJX Cos Inc (TJX.N), for example, saw traffic increase in the second quarter because it offers designer apparel brands, not just low prices.
Wal-Mart saw a 1.8 percent drop in U.S. same-store sales despite thousands of headline-grabbing discounts in a "rollback" strategy it has now abandoned.
Retailers from discount leader Wal-Mart to upscale department store Saks Inc (SKS.N) said the economic recovery was very slow.
"The landscape hasn't changed, and you can make the case that perhaps it has worsened," Kohl's Chief Executive Kevin Mansell told Reuters.
Retail stocks have fallen 13 percent since the end of April, as shown by the Standard & Poor's Retail index .RLX, compared with a 7.4 percent decline in the S&P 500 .SPX.
NO BOOST FROM CONSUMERS
Consumer spending accounts for two-thirds of U.S. economic activity and was a key driver in the country's rebound from its deepest recession since the Great Depression.
But with the housing sector, crucial to U.S. household wealth, still in a rut, and volatile stock markets pinching even those at the upper end of the income scale, the drivers of spending appear dangerously absent.
Home improvement retailers were among the retailers that were hit earliest when the housing bubble burst and executives in that sector are still waiting for a rebound in spending.
"We don't expect strong industry growth until we experience consistent improvements in the labor and housing markets, which likely will not occur until 2011," Lowe's Cos Inc (LOW.N) Chief Executive Robert Niblock said on Monday.
Nordstrom, which caters to more upscale consumers, gave a conservative profit forecast last week, disappointing investors.
But in Nordstrom's case, the decline might have opened a buying opportunity, Edwards said.
"Nordstrom is incredibly cheap right now," she said, noting the retailer has "fabulous merchandise" and good service.
Other stocks that could do well if sales are even up slightly include Target Corp (TGT.N). which has both discount prices and merchandise that attracts consumers, Edward Jones analyst Matt Arnold said.
(Additional reporting by Pedro Da Costa in Washington, and Dhanya Skariachan and Phil Wahba in New York; Editing by Michele Gershberg)
© Thomson Reuters 2021 All rights reserved.