Report : Sporting Goods Retailers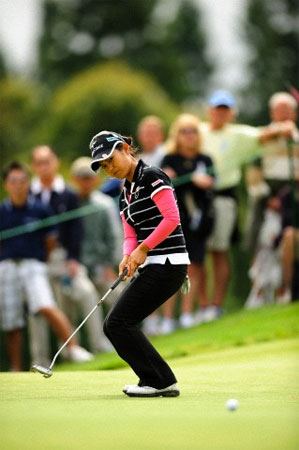 Ai Miyazato competes during the final round of the Safeway Classic Golf Tournament at Pumpkin Ridge Golf Club August 22, 2010 in North Plains, Oregon. Photo : Corbis
Research and Markets
has announced the addition of the "Sporting Goods Retailers" report to their offering.
The US retail sporting goods industry includes about 20,000 companies with combined annual revenue of about $35 billion. Large chain operators include Academy, Cabela's, Dick's Sporting Goods, Hibbett Sports, REI, and The Sports Authority. The industry is fragmented: the 50 largest companies account for less than 50 percent of revenue. Only about 170 companies have more than five stores.
COMPETITIVE LANDSCAPE
Demand is driven by population demographics and consumer income. The profitability of individual companies depends on merchandising and marketing skills. Large chains have an advantage in stocking a wide variety of goods. Small companies and specialty retailers can compete successfully by carrying a deeper product line in specialized sports, hiring highly experienced staff, offering repair services, or by serving a local market. The industry is labor-intensive: average annual revenue per employee is about $140,000.
PRODUCTS, OPERATIONS & TECHNOLOGY
Major products are outdoor clothing and shoes, firearms, sports and exercise equipment, and bicycles. Sports equipment accounts for 65 percent of industry revenue; clothing, 20 percent; and footwear, 10 percent. Major equipment categories include exercise, hunting and firearms, golf, fishing, and camping.
Sporting goods stores vary according to format and merchandise. Large-format stores are from 20,000 to 200,000 square feet, stock a large number of items, and are typically found as anchor stores in strip malls or in stand-alone locations.
For full report please visit Research and Markets
Copyright © 2023 FashionNetwork.com All rights reserved.