Renee Fleming takes on three roles for opera gala
By Ellen Freilich
NEW YORK, Sept 22 (Reuters Life!) - Opera star Renee Fleming is used to challenging roles, and will take on three for The Metropolitan Opera's Gala season opening on Monday that will mark the 125th anniversary of the company.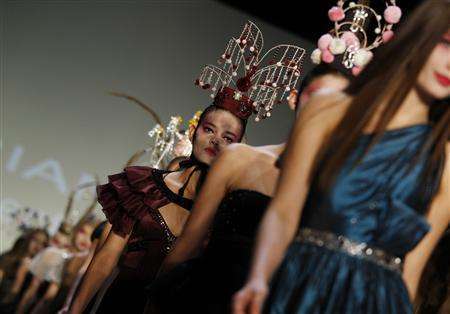 Fleming, whose latest recording of Richard Strauss' "Four Last Songs" with the Munich Philharmonic under Christian Thielemann was released last week, will sing three of her signature roles with three different conductors.
Music Director James Levine, Marco Armiliato and Patrick Summers will conduct fully staged performances of the second act of Verdi's La Traviata, the third act of Massenet's Manon, and the final scene from Richard Strauss's Capriccio.
Tenor Ramn Vargas, baritones Thomas Hampson and Dwayne Croft, and bass Robert Lloyd will join Fleming for the event.
Fleming will also wear new costumes designed specially for the gala by Karl Lagerfeld, John Galliano and Christian Lacroix.
She spoke to Reuters about the event and singing songs by Strauss, which are the most frequently performed pieces in her repertoire.
Q: You will sing three acts from three different operas, each with a different cast and conductor and each in a new costume? Isn't that going to be a challenge?
A: "I don't think any woman has anchored three different acts on the opening night of The Metropolitan Opera season. It's an honor and a great responsibility. These are the most challenging scenes from each of these three operas. The stamina and the variety of vocal requirements varies tremendously. But I know these pieces very well and I plan to give it my all and I'm hoping that the audience is very entertained."
Q: What about the costumes?
A: "They are all new and by three major designers. I had several fittings in Vienna, Paris and London. It's been a very glamorous process. I'm going to have to sing very well to make sure that I'm not upstaged by the costumes."
Q: You've just released a recording of Richard Strauss' "Four Last Songs" and at the Met you will be singing an entirely different work by Strauss, the last act of his opera "Capriccio."
A: "The two pieces are really different. Capriccio seems somewhat light-hearted with the countess deciding between two suitors in a debate over which is more important, words or music. But the "Four Last Songs" really do mirror the stages of life to a great degree. Strauss clearly is making a final statement, offering a credo of sorts, particularly in the song "Im Abendrot" (At Sunset), which describes death as a vast, tranquil peace after the weariness of wandering.
"He wrote these songs in his home in Garmisch-Partenkirchen, Germany in 1948 and died on September 8 1949 at the age of 85. His grandson Christian Strauss gave me a tour of the residence. Strauss had his studio and his desk situated with a view of a mountain. He was surrounded by natural beauty when he wrote those songs."
Q: Finally, you have developed a fragrance called La Voce by Renee Fleming. The fragrance will debut at the Metropolitan Opera's Opening Night Gala and beginning in late fall, it will be sold at some high-end retailers worldwide, in addition to the Metropolitan Opera's Web site and its Lincoln Center shop in New York City.
A: "Yes, it's a limited edition scent being launched by beauty manufacturer Coty Inc, which will donate the proceeds from the sales to the Metropolitan Opera."
(Editing by Patricia Reaney)
© Thomson Reuters 2023 All rights reserved.