Recession brings hagglers to Tiffany
NEW YORK (Reuters) - As the economic funk bears down on consumers, the upscale jeweler is finding more jewelry lovers trying to bargain for lower prices in its stores, even though Tiffany has a firm stand that it will not cut prices of its products.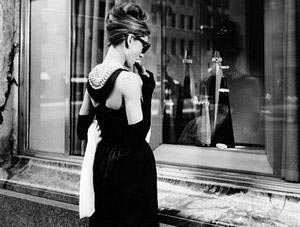 Audrey Hepburn in "Breakfast at Tiffany's"
The trend is a fresh show of how even wealthy consumers are seeing a need to save money when they shop at high-end stores.
"Everyone feels compelled to ask the question for fear of feeling foolish after the fact," Tiffany Chief Executive Michael Kowalski said at the Reuters Global Luxury Summit in New York.
"And yes, the questions are being asked more often and the answer is the same -- the price is the price is the price."
Though Tiffany has suffered in the recession -- sales fell 22 percent in the past quarter -- it has vowed to hold the line on prices. Many investors and analysts argue that discounting would tarnish the Tiffany brand in the long run.
"The final price of a Tiffany piece of jewelry shouldn't be a function of how good a negotiator you are," Kowalski said. "I think that's a terrible disservice to the vast majority of folks who don't want to negotiate."
Tiffany's stand is in contrast to some other upscale retailers that took to deep discounts through the 2008 holiday season to attract bargain-hungry shoppers.
Its jewelry is known for classic styles, one reason why it does not feel the pressure like apparel retailers to cut prices and clear out merchandise fearing a change in fashion.
For example, it sells an 18.44 carat diamond engagement ring for $6 million, a $450,000 Jean Schlumberger necklace with rubies, sapphires and diamonds, while it also has $85 sterling silver earrings to attract aspirational shoppers.
NO GAME CHANGERS
Much like other companies, Tiffany has shed jobs and trimmed its 2009 store growth plans in order to cut costs.
The company had said that sales trends improved slightly in May, but not enough to boost its weak full-year outlook.
To call a definite improvement, Tiffany would have to see U.S. sales at stores open at least one year to improve by at least 5 percentage points, Kowalski said.
However, Kowalski said that he has not seen any "game changer" so far in any of its markets.
When asked what the company needs to see to call business better, Kowalski said: "I would say a trend that represents a 5 percentage point comp movement" in the United States.
"If comps went from minus 25 (percent) to minus 15 (percent), we would say that's significant," he said, pointing to the U.S. market. "We haven't seen that yet."
The company expects a 5 percent to 6 percent increase in the number of stores this year worldwide, but is not targeting Latin America aggressively due to high tariff barriers there, Kowalski said.
Its second smaller-format store will open later this year in Seattle, he said. The first one opened in Glendale, Calif. in October last year. The company currently has 209 of its stores around the world, which include 88 in the Americas region.
The company recently bought bankrupt high-end handbag maker Lambertson Truex seeking to widen its reach in the leather goods area. Kowalski said he would wait and watch to see how that deal would shape up.
Tiffany shares closed down 60 cents at $29.05 on the New York Stock Exchange.
(By Aarthi Sivaraman. Reporting by Aarthi Sivaraman; editing by Carol Bishopric)
© Thomson Reuters 2023 All rights reserved.