Rajesh at the Emporio Mall in Delhi
The designer Rajesh Pratap Singh, originally from Rajasthan, has opened a new boutique in the Emporio Mall in New Delhi, one of the most luxurious retail spots in India. The mall is now host to a cage-like space, inspired by his project "Scissors", where men's and women's collections are presented as well as accessories.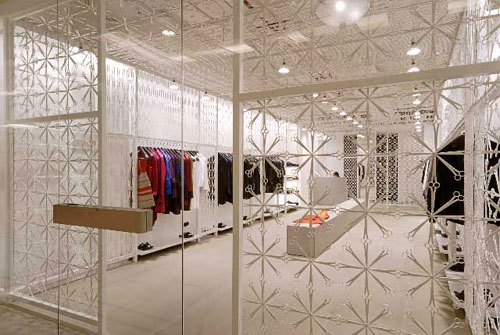 Rajesh's Boutique at the Emporio Mall in New Delhi
On the third floor of the shopping centre the boutique cuts a fine figure; it is the sixth in India; As part of the "Scissor" project, launched in February 2008 in the Parisian salon Tranoï where a Buddha made entirely from scissors was unveiled, the designer developed the idea of a caged space with the cage also made of scissors – proving once more that he is bursting with creative energy.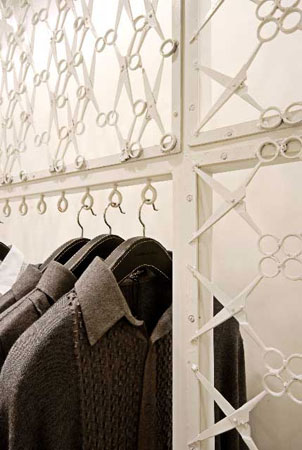 Rajesh's Boutique at the Emporio Mall in New Delhi
Since the first men's wear and women's wear lines launched in India in 1997, the country's golden child has been testing his strength on the international scene. Always attached to his Indian roots, he actively supports the country – notably with the famous "Scissor" project. 30% of profits from the sale of two of his sculptures – a Buddha and a motorcycle – were donated to the NGO Designing India, in order to help victims of the attacks in Mumbai.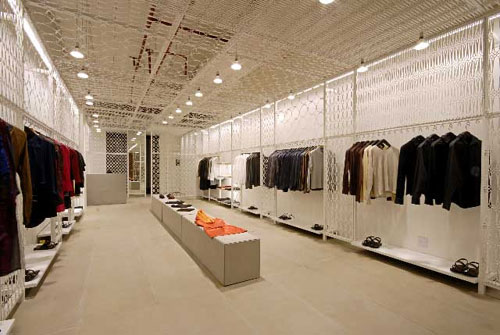 Rajesh's Boutique at the Emporio Mall in New Delhi
Chosen as "Designer of the Year" by Elle magazine in 2007 after the Indian Fashion Week, Rajesh Pratap Singh has recently been creating opera costumes, "Padmavati by Albert Roussel" was presented in the Châtelet Theatre in Paris in March 2008. One month before he had presented his collections for first time on the podiums of Paris.
By Jonathan Fulwell (Source: Emilie-Alice Fabrizi)
Copyright © 2021 FashionNetwork.com All rights reserved.