Quintain seeks new partner for outlet mall
LONDON - Quintain Estates and Development (QED.L) said it is looking for a new funding partner for its London Designer Outlet development (LDO), adding it is broadly confident in its ability to create value against a bleak economic outlook.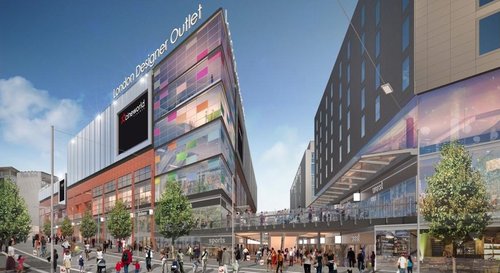 Photo: London Designer Outlet
The regeneration specialist said in its half-year results, which saw net asset value rise, that it had ended talks with a funding partner for its north London LDO, after that partner failed to deliver part of the proposed financing structure.
"With the strengthened (LDO) rent roll we will launch formal marketing of the scheme in the New Year and are now undertaking groundworks on the site, targeting a completion date in the autumn of 2013," Quintain said on Thursday.
It said 39 percent of the 350,000-square-feet scheme had been let or was with solicitors, up from 21 percent in March.
The partner's failure to fulfil its funding promises comes as European banks slash property lending in a bid to fulfil stringent capital adequacy requirements, putting developers under pressure to find new cash avenues.
The termination highlights funding transaction risks in the market. "It's not Quintain's fault, it's the buyer's fault," JP Morgan Cazenove analyst Osmaan Malik told Reuters.
At 1011 GMT, Quintain shares were up 5.1 percent at 36.7 pence, outperforming a 0.5 percent rise in the wider index of UK property stocks .FTELUK.
Malik said Quintain was unlikely to have difficulty in securing another partner given the increased level of lettings.
STEADY PROGRESS
Quintain was also progressing its Wembley and Greenwich Peninsula projects in London. It had exchanged contracts on the disposal of 69.5 million pounds of assets at Wembley, against its 2011 target of 100 million, and had finalised a planning consent for the next phase of the scheme.
"A marked improvement in market conditions is unlikely during the second half," Chief Executive Adrian Wyatt said in the company's results for the six months to end-September.
"However, with London proving more resilient than the rest of the UK, a diversified specialist asset base and an increasingly strong balance sheet, we remain confident in our ability to create value," Wyatt said.
Wembley and Greenwich Peninsula are among a number of large regeneration projects that have sprung up across the UK capital over the past decade, along with Capital & Counties' (CAPCC.L) Earls Court development and Argent's King's Cross scheme.
The company said its EPRA diluted NAV per share rose to 126 pence at September 30, from 120 pence a year ago. EPRA, the European Public Real Estate Association, sets a number of reporting benchmarks for property companies.
Quintain, which also manages funds that invest in student accommodation and healthcare, said its assets under management rose to 1.4 billion pounds, from 1.1 billion pounds at end-September last year.
Its pretax profit was 3.7 million pounds, from a loss of 58.8 million pounds a year ago.
(Reporting by Brenda Goh; Editing by David Holmes and Andrew Macdonald)
© Thomson Reuters 2023 All rights reserved.