Quake-hit Haiti looks to textile park for jobs boon
Jan 11 - The U.S. and Haitian governments signed a deal on Tuesday with a South Korean garment manufacturer to develop an industrial park in quake-hit Haiti in one of the largest investment projects in the poor Caribbean country.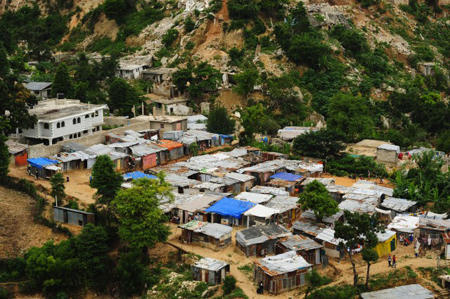 Camps set up amongst destroyed buildings and homes on hillside, Port au Prince, Haiti
The project with South Korea's Sae-A Trading Company Limited is also backed by the Inter-American Development Bank and intends to breathe new life into Haiti's garment export industry and its shattered economy after a devastating earthquake a year ago.
The poorest country in the Western Hemisphere, Haiti is still reeling from the January 12, 2010, disaster that killed up to a quarter of a million people.
Haiti's government and its international aid partners have appealed for more private capital to help the country rebuild its aid-dependent economy.
The framework agreement signed in Port-au-Prince calls for the construction of an industrial park in northern Haiti and aims to appeal to textile manufacturers who could benefit from expanded duty-free access to the U.S. clothing market under increased American trade preferences for Haitian apparel.
Sae-A is expected to be an anchor tenant in the industrial park and employ as many as 20,000 people, becoming the largest private-sector employer in Haiti.
HOPE A YEAR AFTER QUAKE
U.S. and Haitian officials hailed the initiative as a much-needed boost to a country where most people live on under $2 a day and more than 80 percent are unemployed.
"We are like any other nation in a key regard, we need jobs," Haiti's Prime Minister Jean-Max Bellerive said.
He and former U.S. President Bill Clinton, who together co-chair the Interim Haiti Recovery Commission, attended the signing ceremony along with Sae-A Chairman Woong Ki Kim.
It came during ceremonies commemorating the one-year anniversary of the quake.
Officials at Sae-A Trading, a major supplier to U.S. retailers like Wal-Mart, Target, and Gap, said the company's start-up investment would total $78 million, including equipment and infrastructure.
The industrial park will include the development of roads, a power generating facility and a water treatment plant, much of it funded with grants from the Inter-American Development Bank and the U.S. government.
"This could be an incredible location for low-cost manufacturing development," said Denis O'Brien, chairman of Irish-owned telecoms company Digicel, Haiti's largest private investor. "Ultimately, this economy will be pulled up off the floor."
Multilateral organizations and international aid groups have been looking for ways to revitalize Haiti's clothing sector, which before the quake accounted for about 75 percent of the country's exports and employed more than 25,000 people.
Referring to the projected number of jobs to be created by the Sae-A project, Clinton said: "I know a lot of places in America that would commit mayhem to get 20,000 jobs today."
He promised to "use Sae-A as almost a whip to lash" other companies into investing in manufacturing operations in Haiti.
"We took a step in the right direction today," he said.
(Writing by Kevin Gray; Editing by Pascal Fletcher and Jan Paschal)
© Thomson Reuters 2023 All rights reserved.