Prices for pink diamonds on the rise, experts say
April 18, 2011 - NEW YORK - Although a 10-carat purplish-pink diamond failed to meet its reserve price at an auction this week, the market for the rare coloured gems is still strong, experts said on Friday.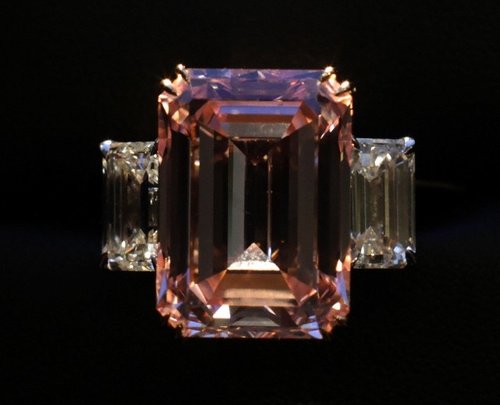 A rare 14.23ct Fancy Intense Pink, VVS2, Type IIa rectangular-cut diamond is displayed during a Christie's press preview in Hong Kong, China, 12 November 2010.
"Pink diamonds are red hot," said David Young, president of Wexford Capital Management, a broker of fancy coloured diamonds.
Christie's had expected the 10.09 carat Fancy Vivid purplish-pink diamond to fetch as much as $15 million at its Magnificent Jewels auction. Four other pink diamonds had sold for more than $1 million per carat at auction in the past 15 months.
The record for a diamond sold at auction is held by a Vivid Pink five-carat diamond at $2.1 million per carat in 2009.
Although Christie's did not explain why the gem missed its reserve, gemologists and dealers said once you reach the realms of $1 million-plus per carat, buyers becomes particularly scrupulous.
"When you get up to this level of stone -- these Rembrandts, these Monets, these one-of-a-kind pieces-- they have to be held up to a very high standard if someone's going to put that much money on the table," said Stephen Hofer, a New York research gemologist and diamond cutter specializing in coloured diamonds.
Experts agree that prices for coloured diamonds, pinks in particular, are on the rise, noting that a barrier was broken in recent years that thrust pinks previously selling for $500,000 to $600,000 a carat into the $1 million-a-carat realm.
While the 10-plus carat pinks stun with their size, diamonds extracted from the Argyle diamond mine in Western Australia command similar sums with the intensity of their colour.
Global miner Rio Tinto's Argyle mine is the world's only consistent supplier of pink diamonds. While smaller, experts said the rare and exquisite Argyle gems are in a class all their own.
At Argyle, pink diamonds making it to the annual tender are literally one in a million. For every one million carats of rough diamonds produced from the mine, only one polished carat is offered for sale in the tender. In terms of global diamond production, pinks make up only 0.03 percent.
Each autumn, Rio Tinto displays its finest 40-55 diamonds weighing 0.50 carat or more and ranging in colour from light pink to red, and even violet, at private viewings in exclusive hotels in cities like New York, Paris, and Hong Kong.
The location of the private viewings is kept secret until the day they are shown. Once these rare stones have made their way around the world, sealed bids from diamond connoisseurs and collectors are tallied and the lucky winners notified.
Last November London jewellery dealer Laurence Graff paid $46 million for a 24.78-carat pink diamond at a sale in Geneva, the highest total price for a gem at auction. He renamed it the "Graff Pink."
"The thing about the Graff diamond is that it's a piece of art. There is not another one like that anywhere," said Gary Roskin, gemologist and founder of The Roskin Gem News Report.

(Reporting by Carole Vaporean; editing by Patricia Reaney)
© Thomson Reuters 2023 All rights reserved.