Prague clinic offers perky incentives to nurses
PRAGUE, May 26, 2009 (AFP) - The young nurse wore a polo shirt instead of the usual sterile outfit, making a show of her perfect breasts and stomach -- a gift from the Prague clinic where she works.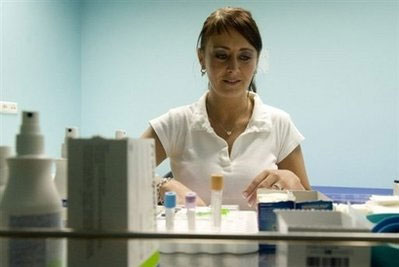 Petra Kalivodova, like seven other nurses, signed up with understaffed clinic for three years -- in exchange for the plastic surgery of her choice. Kalivodova, who has worked at the clinic for four years, renewed her contract and decided to reshape her body - Photo: AFP/File/Michal Cizek
Like seven other nurses, Petra Kalivodova signed up with the understaffed clinic for three years -- in exchange for the plastic surgery of her choice.
"The offer was definitely interesting," said Kalivodova, 31, expertly placing a needle on a syringe as she posed for a photographer in a neat, modern surgery at the Iscare clinic.
She could have chosen any other clinic in Prague as there is a shortage of skilled staff. The Czech health system badly needs 6,000 nurses on top of the 90,000 it employs, according to data from the Czech Association of Nurses.
But Kalivodova fell for the private clinic based in a fancy glass-panelled office building and offering equally fancy perks.
Jiri Schweitzer, Iscare's operations director, told AFP the idea to offer free plastic surgery to nurses, doctors and secretaries was decided last year.
The offer was never advertised. Managers mentioned the option during interviews with job applicants and gambled on staff spreading the word. It has worked like a dream.
Kalivodova, who has worked at the clinic for four years, renewed her contract and decided to reshape her body. She already has a breast implant which she paid for.
"It was a solution to my financial situation. It helped, because the surgery is nowhere near cheap," said Kalivodova.
The clinic charges up to 75,000 koruna (2,850 euros, 3,900 dollars) for a breast implant, about three months' average wages for a Czech nurse, and up to 1,880 euros, or twice the average wage, for liposuction treatment.
Clients from the United States and Western Europe find it cheap and often fly to one of some 200 Czech clinics now offering cosmetic surgery. The figure has risen from 61 clinics in 1997, according to official data.
But the costs are exorbitant for local nurses, who often leave the profession to take up better-paid jobs.
"The attractiveness of this profession is low and the supply of other, less demanding work is big," Health Minister Dana Juraskova, a former nurse, recently told the Respekt weekly.
"Working in an office, having the same money, less work and responsibility -- that is simply far more comfortable," she added.
Many Czech nurses have also taken up more lucrative jobs in wealthier European Union countries in recent years.
Czech hospitals have in turn also looked east for replacements. There are many Vietnamese in the Czech Republic but not many become nurses because of the tough language requirements.
To lure staff, hospitals and clinics need different perks and bonuses. The one offered by Iscare hit the bull's eye as the clinic has rejected dozens of job applicants.
"I mentioned this to colleagues and friends, and the interest in working here is huge," said Kalivodova.
A Prague daily newspaper ran a story on the offer and "dozens of people seeking a job have reacted, including two doctors," said Schweitzer.
"But we are fully staffed now," added the director, leaning back in his leather chair and radiating an air of self-confidence.
Schweitzer said nurses at the clinic preferred breast implants, followed by liposuction and tummy tucks.
He added the benefits could also be good for the clinic. "I can imagine that a nurse at a plastic surgery ward who looks good will make a better impression on the clients."
"And it is also good for the staff. They were dreaming about looking better all their lives, and we enabled them to do it, so it should affect their work too. It has been a success."
There is a minor catch. If staff leave the clinic before their three-year contract ends, they have to pay the full cost of the surgery.
The price is a powerful deterrent to leaving and there is the "theoretical" option that a new three-year contract might produce another surgical perk, he added.
"I don't know what will be in three years, but if I wanted to undergo another surgery, I would certainly ask them to renew my contract," said Kalivodova.by Jan Flemr
Copyright © 2022 AFP. All rights reserved. All information displayed in this section (dispatches, photographs, logos) are protected by intellectual property rights owned by Agence France-Presse. As a consequence you may not copy, reproduce, modify, transmit, publish, display or in any way commercially exploit any of the contents of this section without the prior written consent of Agence France-Presses.